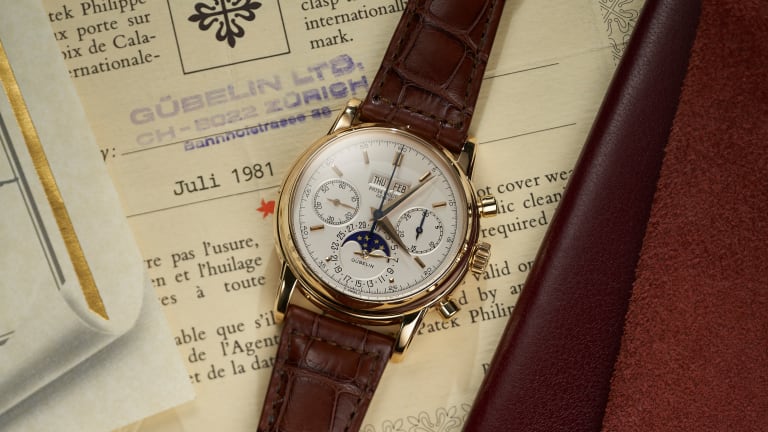 Here's Why These Vintage 'Double Signed' Luxury Watches are Holy Grails
Among hardcore watch collectors, a mere vintage and rare Rolex or Patek Philippe sometimes isn't enough; they seek out even more scarce "double signed" pieces that represent historic and sometimes short-lived collaborations between watchmakers and high profile retailers around the world.
These incredibly scarce timepieces are the subject of an upcoming auction from Phillips in Association with Bacs & Russo, set to take place at the Hôtel La Réserve in Geneva on Nov. 9. "More than an auction, this historic event will reunite what many seasoned collectors consider to be absolute grails of their collecting field," Phillips notes.
Here are our top picks:
Rolex Daytona "John Player Special Paul Newman" Ref. 6241
This gorgeous piece made c.1969 was retailed by the legendary Tiffany & Co. Only a dozen yellow gold ref. 6241s with "John Player Special," aka black and gold, dials are known to exist, and it's expected to fetch up to about $900,000.
The only publicly known yellow gold Ref. 6542 made in 1958 and retailed by Serpico Y Laino of Venezeula is an exceptionally rare find indeed, even without the double signature.
Another South American stunner, this pink dial Patek chronograph with pulsometer scale and unique blue seconds hand was made in 1946 and retailed by Freccero, in Montevideo, Uruguay.
Made in 1939 and retailed by the famous Gobbi of Milan, this pink gold chrono is one of just 19 ever made, and one of only two that were sold by the iconic Milanese watch boutique.
This rare yellow gold chronograph made in 1941 was sold by Italian retailer Hausmann & Co. The ref. 4072 was in production from 1938 until the late 1960s and is one of the brand's most important models.