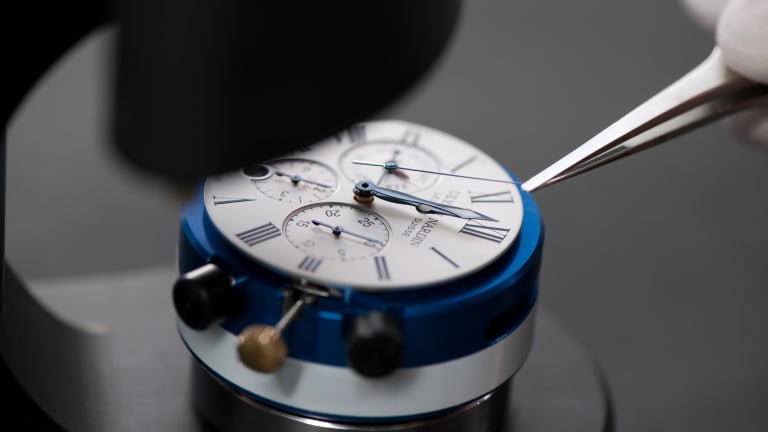 Everything You Need to Know About Ulysse Nardin's Game-Changing Chronograph
Sponsored by Ulysse Nardin.
Stylish is a funny thing.
One can go decades without realizing where their stylistic passion falls. Things that were barely a blip on their radar are all of a sudden louder and more noticeable than ever once believed. In few instances is this more evident than the realization of a passion for a quality timepiece.
The Chronograph Annual Calendar from Ulysse Nardin is the kind of watch to inspire that passion. In a digital society which views a watch as less a scheduling-keeping necessity than a frivolous accessory, Ulysse Nardin has found a beautiful marriage between style and simplicity to turn any eye directly to your wrist.
Founded in 1846, Ulysse Nardin's eponymous company has maintained a consistent tack record of high-quality pocket and marine chronometers. Precision always at the forefront of their designs, Nardin's watches are the perfect pieces to send a very clear message of high standard to both horologists and casual wearers alike.
The Chronograph Annual Calendar takes a familiar and reliable line of Ulysse Nardin watches and adds a new flavor of simplicity with its element of the annual calendar. Deviating from the standard, this chronograph features a month, day, and hour element from a wider scope of time. No longer will you have to readjust your watch on the changeover from those meddlesome short months; your whole year is at a glance on your wrist.
Staying true to its marine heritage, this piece boasts a ribbed bezel, a screw crown (which guarantees perfect water-resistance), and a 43mm diameter casing for bold and easy readability.
All different elements of The Chronograph Annual Calendar combine to form something beautiful and frankly rare in a watch: uniqueness combined with style with a minimalistic approach. Three simple dials reminding us of how precious time is, all while broadcasting a true air of sophistication.
These are the things that inspire passion. Something we thought was so simple, only to realize the depth and beauty contained within it, which lights that burning flame for true style. That is what a quality timepiece can do. By land or by sea, the sleek style of The Chronograph Annual Calendar from Ulysse Nardin is enough to satiate a refined palette while inspiring a whole new generation of watch aficionados.
If you're interested in seeing the timepiece in person, check out this handy store locator: