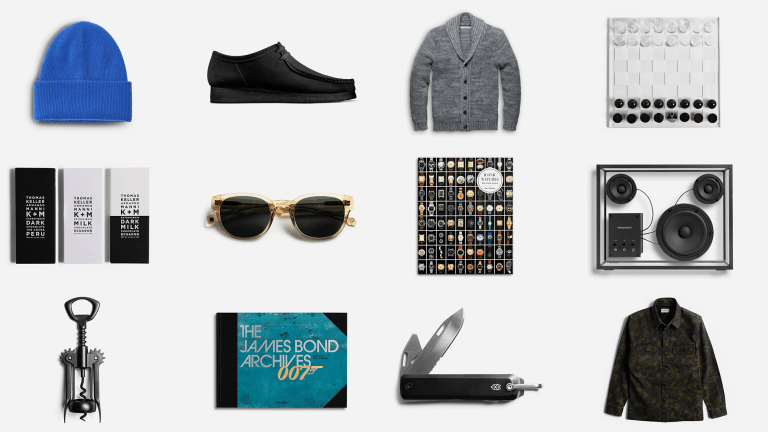 The Ultimate Holiday Gift Guide

Once again, we're playing Santa's helper with our annual holiday gift guide filled with an epic assemblage of stylish items and failproof essentials from some of our favorite brands in the world. No wrong moves.
This recently updated Bond book arrives in XXL size with over 1,000 on-set photos, unreleased stills, production memos, storyboards, and set designs from 007 films past and present—including new chapters covering No Time To Die from Cary Joji Fukunaga.
Worn by Matt Damon in his role of Carroll Shelby in Ford vs. Ferrari, the Beacon 1200 Sunglasses from Entourage of 7 is one of the most popular products we've featured this year.
No matter the age, the holidays are a time for fun. And this clever jet engine for paper airplanes delivers that in spades.
This indoor/outdoor slipper from Holden not only laps the competition in terms of style but also in warmth, thanks to a healthy amount of premium PrimaLoft insulation. Available in multiple colorways.
Candy, of course, is always a popular stocking stuffer. Do it better than a bag of Sour Patch Kids this season and opt for this trio of premium chocolate bars from renowned chef Thomas Keller, best known for his Napa Valley restaurant The French Laundry. They're made with single-origin cocoa beans and a small amount of MANNI organic extra-virgin olive oil.
A stunning and sleek way for keeping schedules in expert order, this 2021 planner will be a very appreciated gift for anyone on your list who prefers pen and paper over iCal.
For the tasteful traveler on your list, this handsome celebration of the internationally-coveted luggage brand and its lightweight aluminum suitcases makes for a great gift.
This weighty, premium Apple Watch dock transforms the digital timepiece display into a stylish bedside clock via clever magnification tricks. A perfect gift for the Apple addict on your list.
This "evil twin" version of the iconic Clarks Wallabee shoe is sure to level up the footwear rotation of anyone on your list, from grandpa to new grad.
Golfers can generally pass on opening a box of balls over the holidays—Pro V1s or otherwise. It's appreciated but lacks fun, the sporting equivalent of unwrapping socks on Christmas morning. Instead, consider gifting this charming flask design wrapped in pebbled leather with holders for the included tees, markers, and repair tool. It's paired with a stylish and pocket-friendly scorebook with a durable cover cut from Smyth-sewn full-grain leather.
We've seen too many men open halfhearted pajama sets over the years, pairing ill-fitting silhouettes with ugly plaids and shoddy overall quality. Instead, do it better with this premium sweatpant from Reigning Champ which is handmade in Vancouver and delivers a flattering fit with a cozy feel.
Made in France from matte black Teflon delivering durability and sleekness, this winged design from L'Atelier du Vin opens bottles of wine with ease and looks great while doing it. For gifting, pair it with a bottle of their favorite wine.
A quality robe will always be a popular holiday gift. Do it better than the run-of-the-mill and opt for this stylish all-black version from Onsen.
If Steve Jobs was in charge of an everyday carry brand, it would probably look like The James Brand. And the simple, effective Ellis Knife is their iMac.
Designed to level up winter style, this classic beanie is spun from an ultra-soft wool and cashmere blend in a rib-knit and arrives in a bold but wearable hue.
A drool-worthy design move delivering all kinds of style on top of a warm and detailed sound, this turntable from U-Turn is a gift best paired with a few rare records or a Sonos Amp for wireless speaker connectivity.
One of our favorite gift recommendations year after year, this handmade crossbow can sling sugar-based pellets up to 60 feet through the air with cool ease.
For the Harry Potter superfan, this tastefully designed book set covers the entire literary series in style thanks to special book jacket designs that combine into a singular image.
A special edition recreation of the machete-style blade that traveled on board every Gemini and Apollo mission, this is the perfect gift for the hard-to-shop-for dads with a passion for space and adventure.
This minimalist throwback watch from Timex is the timepiece of the season—and comes in at under $200 USD.
Beyond its cool packaging and clean aesthetic, this top-tier shaving cream from Anthony uses rosemary and eucalyptus extracts for a satisfying cooling effect that not only feels great but calms the skin. Stocking stuffer perfection.
Christmas morning fun awaits with this trio of throwing knives, which are expertly weighted and balanced for an impressive display of backyard target practice.
If you have someone on your list who wouldn't dare sport a fancy designer wallet but desperately needs to retire their George Costanza-style bifold, treat them to this minimal and tougher-than-steel option from Pioneer. It comes in at just $65 USD.
A stunning showcase of the world's best watering holes paired with classic cocktail recipes for enjoying at home, we suggest gifting this informative and fascinating hardbound book alongside a bottle of the good stuff.
Don't be the person who gifts a humdrum Bluetooth speaker from the sale rack at Best Buy. Instead, do it better with the Transparent Speaker, a future classic built primarily from tempered glass with a black aluminum frame. Beyond its display-worthy design, it also delivers tons of oomph with a rich bass and crisp highs.
On par with furry dice, a cedar tree hanging from your rearview mirror should be avoided at all costs. If someone on your list still opts for that play, load them up with this tasteful alternative from retaW, which is available in a variety of scents including champagne and bergamot, patchouli and vanilla, lily and cassis, and fresh milled Japanese soap.
This elevated chess set channels The Queen's Gambit in luxe style thanks to its artful geometric pieces and Lucite construction in a whiskey-inspired hue.
A refined and minimal take on playing cards, this set designed by Joe Doucet and produced by Areaware is a stylish way to pad out the stocking selection.
This minimal, handsome collaboration between NASA and Alpha Industries shows off the space agency's classic "The Worm" logo first seen in 1974.
The watch collector on your list is sure to appreciate this sophisticated 500-piece puzzle curated by A Man & His Watch author Matt Hranek. It showcases 77 of the world's greatest watches, including grails like Paul Newman's Rolex Daytona.
Beyond the puzzle above, another savvy gift for the watch collector on your list is this exceptionally handsome showcase with a full-length window and blacked-out interior. 007 style for days.
Pairing Horween leather accents with ballistic nylon construction and webbing pull tabs, this toiletry kit from Topo Designs is equally at home in the backcountry as it is at the five-star resort. For gifting, we suggest filling it with a few stylish and quality grooming essentials like the ones on display here.
Made from diagonal loopback cotton fleece, this luxe and minimalistic hoodie from Norse Projects is impossible to go wrong with.
Like something out of Q-Branch, this everyday carry gift set from A-Tech secretly hides a phone stand, a ruler, a bottle opener, a combination flat head and Phillips driver, a wire cutter, a box opener, various hex keys, a mini torx key, a bike tool, and a tablet stylus.
For the aspiring spy, this gift set includes a mini storage device that looks like a standard bolt, a ceramic knife barely the size of a quarter, a bracelet that will break a glass window on a car, boot laces that hide a handcuff key, and a zipper pull that will start a fire.
A modern version of a classic style staple, this easygoing cardigan from Outerknown is crafted from a blend of moisture-wicking Merino wool and soft organic cotton and features a shawl collar for extra sophistication.
Short of a 911 topped with a giant red bow in the driveway, this deluxe hardcover book is the best gift you can give the Porsche enthusiast on your list.