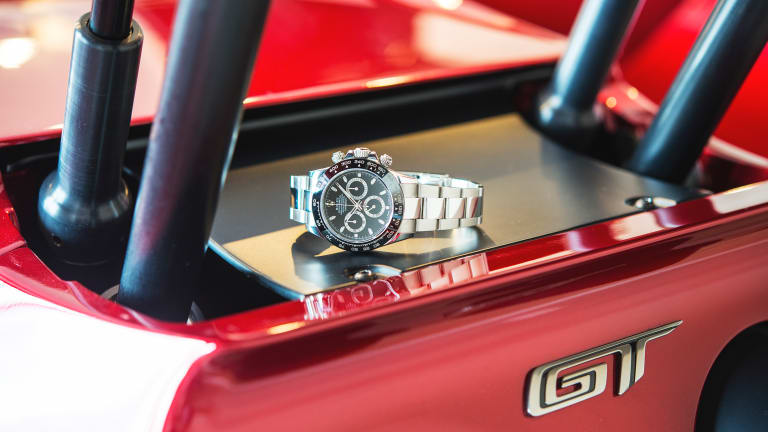 This 'Stock Market of Things' Is the Best Spot to Score Supreme and Submariners
If you're into Rolex Submariners, limited edition sneakers and/or Supreme streetwear, then you need to give eBay a break and check out StockX, the live bid/ask marketplace backed by Eminem and Mark Wahlberg that's changing the game for collectible luxury goods.
Sellers place asks on merchandise that is guaranteed genuine, buyers place bids, and when a bid and ask meet, the transaction happens automatically. From retro Jordans to Yeezys and Supreme Zippos and Rolex Sea-Dwellers, the site's business is booming with 7 million visitors per month and $600 million in total marketplace sales.
Aside from totally transparent pricing, the big advantage of StockX is real-time market data, letting you know exactly what a product is currently worth, much as traditional stock indexes do. This makes for more intelligent buying and selling instead of random bidding.
Just like a brokerage house, buyers and sellers can view individual portfolios and track the worth of their personal collections. And we have to admit that a stock ticker for sneakers, which are the prized assets of a new era, is a brilliant idea.
It also offers news about the latest releases and even a cool watch column called The Cultivated Wrist by Blake Buettner, director of StockX Watches, who has excellent taste in timepieces. Keeping on top of trends helps you decide what to invest in.
And among the most important components, unlike other auction sites, sellers ship their merchandise to StockX which then thoroughly authenticates it via their team of in-house experts, doing away with the danger of fakes that flood unregulated marketplaces.
This "stock market of things" was founded in 2016 by serial entrepreneurs Josh Luber and Greg Schwartz along with Dan Gilbert, the billionaire founder of Quicken Loans and owner of the Cavs. The company, headquartered in Detroit where it's helping revitalize the city, now has 120 full-time employees.
Initially, the site offered only deadstock goods but last year it staged an "IPO" wherein Nike released LeBron James's first retro sneaker on StockX. The site's watch offerings, which are always in excellent condition and verified as authentic by master watchmakers, are also doing big volume, and a few months back Shinola launched an exclusive new model, their first mechanical watch, with the site.
It's not just all about making money either; last September, StockX partnered with Eminem to raise $440K for hurricane relief by raffling sneakers donated by 17 celebrities including LeBron, Pharrell Williams and Steph Curry. The site's latest vertical is streetwear, kicking off with cult brands Supreme, Bape, Palace and Kith.
They have also added financing via Affirm, so you can acquire what you want right now with the flexibility of paying for it over time. All in all, quite a year for StockX, though we expect even bigger things to come in 2018.