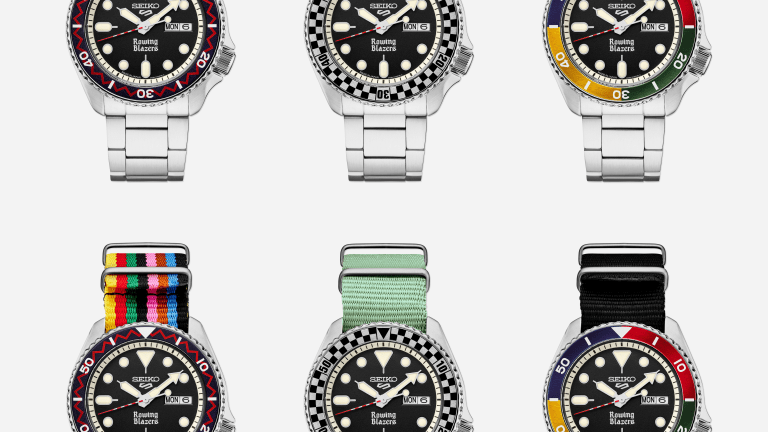 Rowing Blazers x Seiko Launch Achingly Cool Watch Capsule
Rowing Blazers — the mens- and womenswear brand founded in 2017 by author, archaeologist, and U.S. national team rower Jack Carlson — has joined forces with Japanese watchmaker Seiko on a special collection led by a trio of custom Seiko 5 Sports powered by an automatic movement.
Each watch features a subtle Rowing Blazers logo on the dial and a unique bezel design that pops on the wrist. They're finished with a "contemplative skeleton" motif on the exhibition caseback that serves as a reminder that time flies. The memento mori has become a bit of a signature for the brand (it can be seen on a few of their clothing and accessory pieces) and adds additional irreverence and style to the timepieces.
"Collaborating with Seiko is a dream come true," Carlson says. "I have a small collection of both new and vintage Seikos, and I'm obsessed with the brand. This is our first real foray into the world of watches — though we often sell vintage Seikos on our site — and I couldn't imagine a better partnership. I'm very grateful to my good friend and watch rabbi Eric Wind for making the connection and assisting with the design process."
The four-color watch is a special edition while the zig-zag and "rally" watches are limited to 500 examples each. All three retail for $495 USD and are available to score right here. And as an added bonus, every purchase arrives with both a bracelet and an alternative nylon military strap, as well as a complimentary black "dad hat" with the Seiko logo across the front.