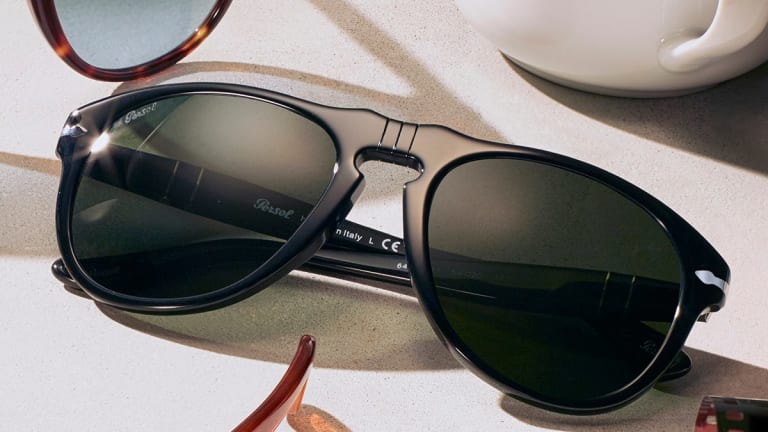 How the Persol 649 Sunglasses Went From Ordinary to Style Symbol
Next to the Ray-Ban Wayfarer and Aviator, there is no more iconic and elegant item of eyewear than the Persol 649.
Like all the best things later adopted by the genetically stylish, the 649 was originally created with a very practical purpose in mind, hence it adheres to the golden rule of good design, i.e. that form should follow function.
And while many equate the name Persol with the silver screen these days, the brand existed for 40 years before being worn by a member of the glitterati. Optician Giuseppe Ratti founded the company in Agordo, Italy 100 years ago to make eyewear suitable for pilots and race car drivers.
The 649, which was introduced in 1957, was made for Italian tram drivers who required large lenses to block dust and soot. They just happened to suit movie stars as well, and in 1961 they were worn by Marcello Mastroianni in Divorce Italian Style (Divorzio all'italiana), a 1961 comedy directed by Pietro Germi.
Mastroianni would later gain fame for La Dolce Vita, and though he wore a different model of shades in that film the 649s would forever be equated with the stylish star of many Fellini masterpieces. Steve McQueen also later took a liking to a folding version of the 649 dubbed the 714 which he had fitted with custom blue lenses, which he can be seen wearing in 1968's The Thomas Crown Affair. Like Mastroianni, the 714s became one of McQueen's signature style items, and 649s and 714s have since been worn in homage by the likes of Ryan Gosling and Leo DiCaprio, among others.
In the 50 years since it first debuted Persol has made myriad versions of both frames, in a wide variety of solid and tortoise colors along with dozens of lens combinations. Channel McQueen or Marcello, or stake out your own territory in a pair of the ultimate shades and pick up a pair today.
Just prepare to be besieged by admirers (you'll get used to it).