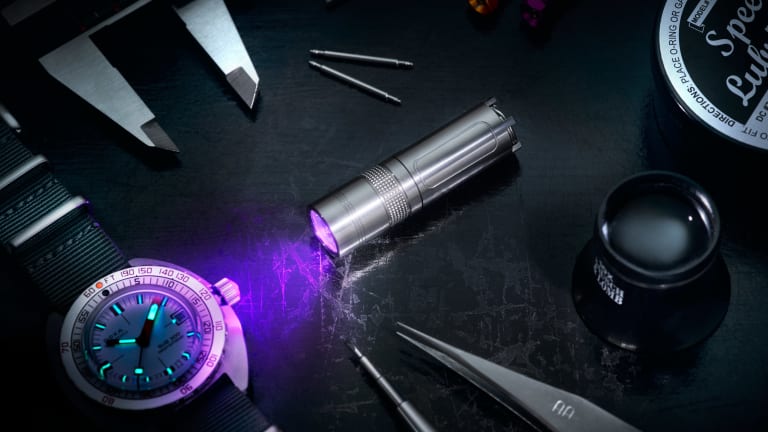 The Vintage Watch Expert Has a New Secret Weapon
It's no secret that a UV light is a pretty common sighting in a forensic officer's tool kit, but an increasing number of watch experts are relying on ultraviolet's purple glow to reveal clues that could determine a vintage watch's ultimate value. Tailored specifically at collectors, vintage dealers, and the watch enthusiasts from New York's underground watch society called RedBar, comes the Maus UV torch, an ultra-portable, but markedly powerful keychain UV light created by Muyshondt.
Similar to how a UV light can be used to spot hidden evidence or authenticate currency, the Maus can also be used to determine whether or not that priceless vintage Rolex or Patek has an authentic dial or not, due to the way vintage tritium paint and modern Super Luminova paints luminesce in different ways under ultraviolet light. If the hands or dial markers have ever been replaced or re-lumed in any way, or if there's tiny debris under the crystal, the torch can spot it – all factors that can dramatically yield a difference in the tens of thousands of dollars when it comes to a vintage watch's final hammer price.
The Maus UV torch is machined from titanium, hand finished, and hand assembled. Designed to attach to a keychain or easily slip into a camera bag, it utilizes an integrated twist interface to turn the unit on and off and cycle through its three intensity levels. Learn more and pre-order the Maus here.