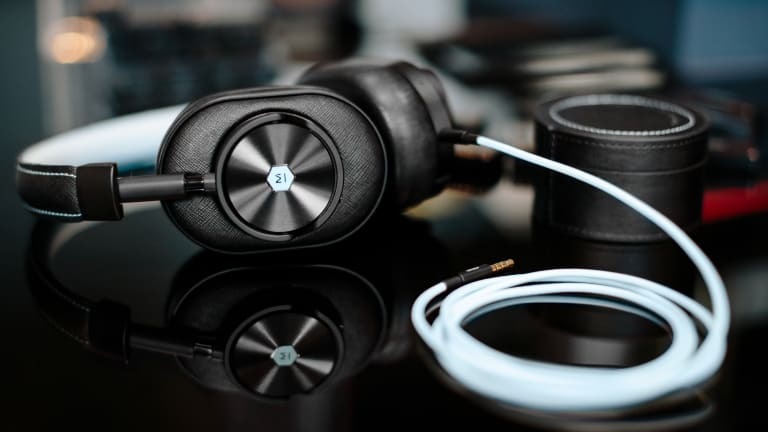 Five Beautifully Designed Audio Gadgets to Make Your Favorite Music Sound Better
There's been much hand-wringing amongst audiophiles that the current era of compressed digital music files has worsened the quality of the tunes we listen to on a daily basis. And that's not wrong, it's just much easier to listen to music on your phone even if the experience is sub-par, melodically speaking.
It's gotten to the point that a lot of people have in fact forgotten what properly played music even sounds like. But there's no need to start geeking out on vinyl or buy one of those ultra-expensive high-res audio players just yet. Start by upgrading your listening experience via better quality headphones, speakers and such.
And pick ones that complement your design aesthetic so you'll be more inclined to use them and leave the earbuds at home. Here are five we really like:
Are these leather-wrapped headphones in a custom, near-bulletproof metal case overkill? Yes but they're gorgeous and every time you use them you'll feel like James Bond.
There are bluetooth speakers that call attention to themselves, and then there are Denmark-based Vifa's stunning products that make a much quieter and more elegant design statement.
Top-quality walnut upgrades this minimalistic masterpiece making it into something you'll no longer need to hide on a shelf. The tech has also been upgraded to make streaming seamless.
British tastemaker, watch customizer and car collector George Bamford collaborated on these limited edition leather earphones featuring the signature Bamford aqua blue on the underside.
This WiFi-enabled speaker one-ups the competition thanks to a powerful integrated subwoofer delivering rich rolling bass and crisp balanced mid and high frequencies while the bamboo trim is easy on the eyes.