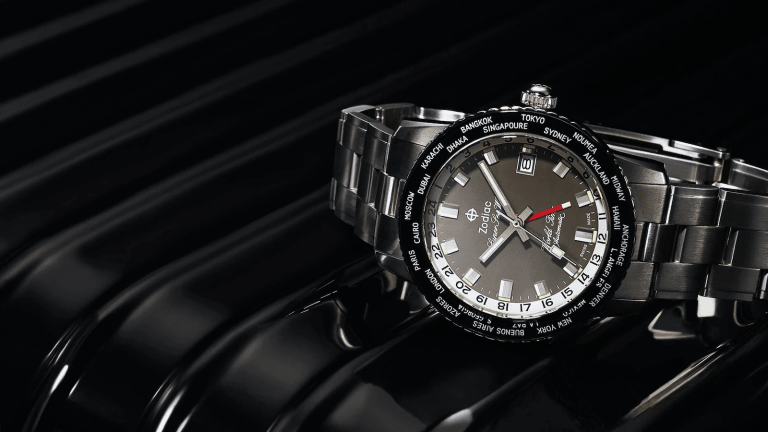 Zodiac Updates and Upscales a GMT Classic from the 70s
To call Zodiac iconic would be a serious understatement.
Founded in Switzerland circa 1882, the brand designed and produced the first automatic sports watch in 1930 before unleashing the Sea Wolf in 1953, which was the first true diver built with both amateurs and professionals in mind.
Years later, in 1970, they released the Super Sea Wolf World Time, which updated their signature model as a GMT. It was a hit, to no surprise, and the model has been a staple in the Zodiac catalog ever since. However, not without going through a number of changes and updates as any product does.
Now — decades later — the first-ever Super Sea Wolf World Time is back from the dead as a ltd. edition tribute release, featuring the original design from 1970. Well, almost the original design.
The new version has been upscaled in a few ways, most notably by pairing the traditional universal GMT tracker with a world time outer ring and rotating bezel denoting 24 global cities. Combining the two allows you to track two time zones simultaneously with cool ease. Another big swerve is an upgraded Swiss-made Soprod C125 automatic mechanical movement keeping things ticking, which is good for 42 hours of power reserve. Otherwise, it feels like it flew straight out of a time machine with its robust stainless steel construction, sporty yet elegant profile, and premium water resistance.
Both styles are available to pick up here, each priced at $1,795 USD and primed for travel, adventure, and maybe even a little bit of trouble.