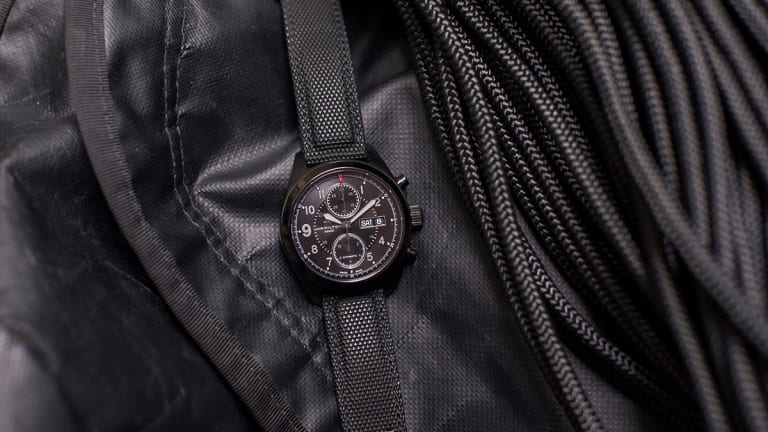 This Blacked-Out Hamilton Watch Is the Subtle Style Star of 'Jack Ryan'
Tom Clancy's Jack Ryan character, famously, is somewhat an anti-Bond.
He prefers a devoted relationship over womanizing around town, beer over martinis, baseball over fencing and is perfectly OK driving a vintage BMW sedan, not a vintage Aston Martin sports car.
And though his style doesn't measure up to 007, Kingsman agents or most other "proper" spy interpretations, his taste in watches is truly exceptional.
Case in point: in Amazon's new Jack Ryan series, starring John Krasinski, the titular character is sporting an all-new, all-black Hamilton Khaki Field Auto Chrono timepiece.
Hamilton, one of the oldest and most iconic American watchmaking companies, is known for their subtle, tasteful watches for men who appreciate quality, timeless design and reliability but don't necessarily need something that screams dollar signs. It's humble and gets the job done with expertise, much like Ryan himself.
The watch itself features a PVD-coated 42mm stainless steel case with a 60-hour power reserve on top of chronograph and day-date functions, all powered by a Swiss-made H-21 automatic movement. It's finished with a uniquely textured rubber strap.
Online, you've got two buying options: directly from Hamilton for $1,795 or through digital outlet JomaShop for just $1,149, which is 36% off retail. Mission accepted....