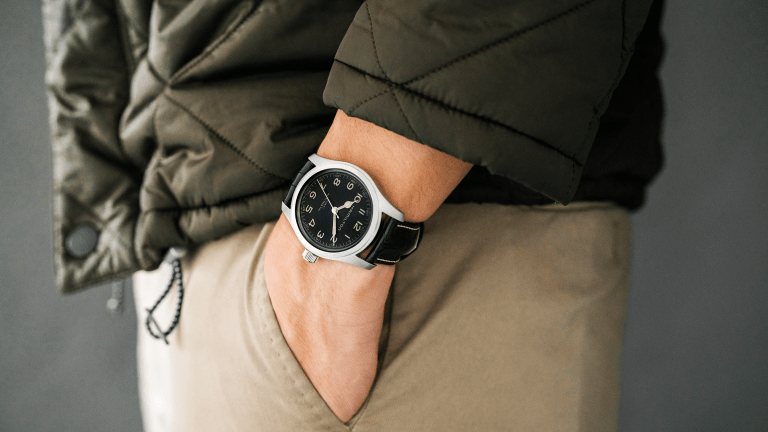 You Can Finally Strap on the Hamilton Watch from 'Interstellar'
Omega watches and space travel go hand in hand. But in Christopher Nolan's 2014 movie Interstellar, it was Hamilton, the iconic American manufacturer, that played a pivotal role as a plot device in the science fiction epic.
Unfortunately, the watch in the movie was a custom prop, not part of an existing line, and if you wanted to get it on your wrist, you couldn't. But five years later, they're changing that, and finally bringing 'The Murph,' as it was nicknamed by fans, to market.
Featuring a 42mm brushed stainless steel case, black dial, cathedral-style hands with Super-LumiNova, and an H-10 automatic movement with an 80-hour power reserve, it's not only a cool tribute to one of the best movies of the last few decades but a beautiful watch on its own merits.
And though the watch itself a faithful reproduction of the watch in the movie, there is one minor difference between what you see in the film and the one you see here, and we're pretty sure nobody will mind. If you look closely at the seconds hand, you'll spot a series of very subtle lacquer dots and dashes running down its length, which spells out 'Eureka!' in Morse Code.
Limited to 2,555 pieces and priced at $999, HODINKEE is now accepting orders with delivering beginning March 4.