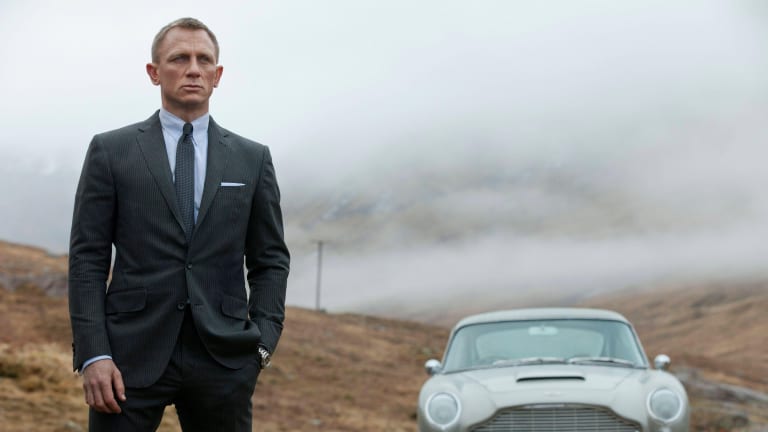 10 Essentials That Help Transform Men to Gentlemen
Start playing in the major leagues.
There comes a time in man's life when he decides to do away with childish things – i.e. the stuff he's been carrying around since college. In other words, it's time to graduate in all walks of life, quit buying disposable accessories and start acquiring heirlooms worthy of a fellow on his way to the executive suite. Here's how to get started:
It's time to upgrade from the steel workhorse that's made a thousand and one margaritas and move into the dry martini zone. This Asprey of London shaker is aces.
Ditch the rumpled boxers, they aren't suitable for mixed company. Silk pajamas are a little too louche; fitted linen, like this pair from Tani, just right.
The same steel sports watch every guy in your department wears no longer cuts the mustard on truly special occasions. A vintage silver pocket watch on the other hand always does.
Not for sneaking drinks any longer, but for casually producing whenever the occasion calls for something more entertaining in the punch bowl. Sir Jack's' leather and sterling version is a knockout.
You're grown up now and don't have to worry about leaving your umbrella behind – the kind of restaurants you frequent these days will make sure you get it back. A real bamboo handled version like this one from Maglia Francesco means business.
Sterling Archer doesn't rent tuxedos, and neither should you. For summer occasions or tropical locales go all-in on a creamy shawl collar number from Ralph Lauren Purple Label.
Paperbacks are the fast food of the literary world; first editions are the filet mignon. A book like this original Ian Fleming Bond is both an heirloom and a good investment.
It's time to give the novelty wallet to Goodwill and spend some of that hard-earned cash on a suitable carrier for same. This handmade John Allen Woodward one is pure perfection.
Another heirloom item that will just get better with use if you invest in the best leather you can get. Which the folks at Ghurka are always more than happy to provide.
All of the stuff above doesn't matter a damn if you're not a gentleman in word and deed as well. Luckily you can learn the things you weren't taught from birth by brushing up with books like this.