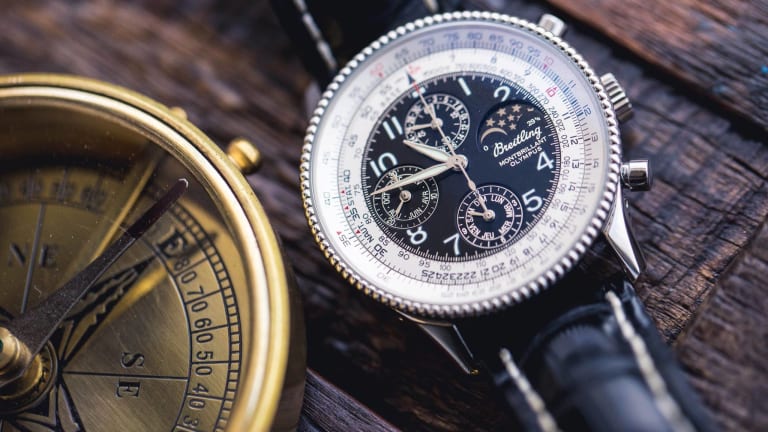 10 Ways to Bite Breitling's Basel Style with Pre-Owned Pieces You Can Buy Now
Breitling, one of our favorite Swiss watch brands, just teased the new pieces they plan to release at Baselworld this week, and big surprise – they're pretty much all riffs on classic designs including the Navitimer, Chronomat and Superocean that have been part of the brand's pantheon for years.
Which means that savvy buyers can invest in vintage and pre-owned pieces safe in the knowledge that their watches won't look dated or disreputable just because they aren't brand new. What's more, it will take a while for the new designs to hit retail whereas you can strap on a classic right now.
Here are ten great ones to choose from:
Breitling, long a favorite of airmen, first released the Navitimer in 1954, and it's one of the most sophisticated pilot's watches you can get.
This limited run blacked-out take has a bit of stealth bomber appeal and the dial isn't quite as busy as the standard model, showing admirable restraint.
A lot of enthusiasts reckon vintage Navitimers are even cooler, and what's great about them is that they won't cost you any more than a new model.
The Chronomat is one of Breitling's most contemporary looking timepieces ranges, and it's been reinvented numerous times.
This dual timezone version packs serious "black ops" chops, and you'll never let your squad down if this beauty is on your wrist.
The Navitimer actually evolved from the Chronomat's predecessor, the Chrono-Matic, which this retro piece pays fitting tribute to.
The Superocean has likewise been through a number of iterations, but our favorites are the Heritage models that have a timeless elegance.
With the debut of the Superocean in 1957 Breitling proved it could do dive watches just as well as aviation-inspired timepieces.
The brown dial and bezel on this riff on the Heritage pieces give this watch a unique vintage character that's yet fresh and cool looking.
One other thing Breitling has done very well of late are its pieces designed for another famous British brand, Bentley Motors.