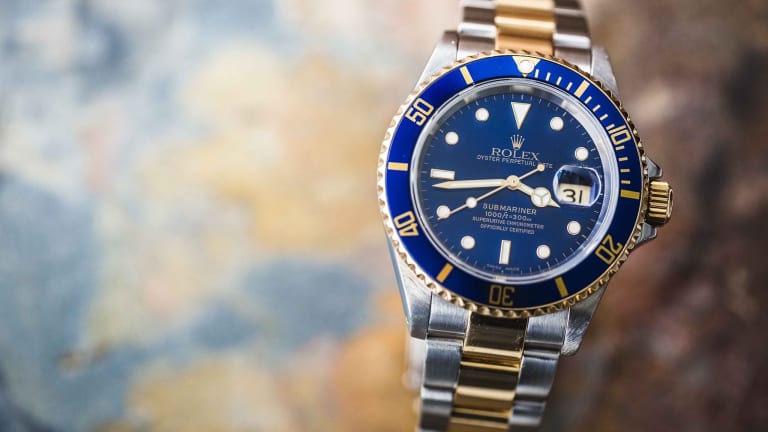 10 Reasons Why a Blue-Faced Watch Should Be Your Next Investment
Black and white will always be the classic choices, but when you're ready to up your watch game consider a blue dial. It's a step above in terms of style, not as severe and shows you didn't just snap up the first thing you saw.
There's something extra luxe about a blue-dialed timepiece as well, so cast your eye over these excellent examples and start thinking about how one would look strapped to your wrist:
The Milgauss, an anti-magnetic Rolex made for scientists, is a bit strange looking for some tastes but this version with a blue-tinted dial is highly desirable.
Time was Tudor was considered the bastard stepchild of Rolex; not anymore, as this exceedingly handsome blue diver shows.
This is one of Breitling's most handsome modern timepieces, with the rugged good looks of a military-issue pilot's watch and a natty blue rubber strap to match.
We think this classic looking pilot's watch from Bell & Ross' recent vintage collection is a great deal, and therefore is bound to appreciate in value.
The annual calendar complication on this watch drives the price into the stratosphere, but if you're in the zone it's hard to do better than an IWC Big Pilot.
This Big Bang with a unique denim theme is anything but cheap, however, most people will assume it's worth about twice the actual value.
As vintage Carreras go, this example is on the pricier side, but the blue dial also makes it a rarity and therefore highly covetable for collectors.
What's cooler than a vintage gold Rolex? A vintage gold Rolex with a blue dial. One more for when you're ready to bat in the major leagues.
Another watch you don't often see with a blue dial, the Luminor looks very dashing in this shade especially when offset by a metal bracelet.
Not all of Omega's experiments with colored Speedmaster dials have been successful, but this blue beauty with red highlights is certainly an exception.