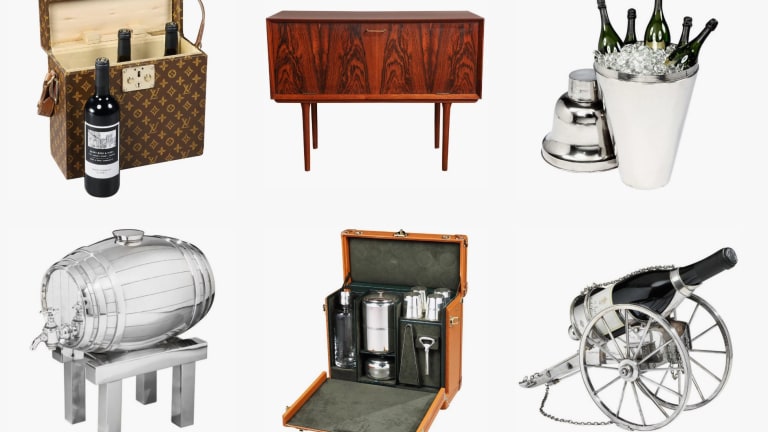 10 Amazing Ways To Add Killer Vintage Style To Any Cocktail Hour
Barware used to be much cooler.
The mixology revolution has been amazing for reinventing cocktails, but barware has not benefitted from a similar renaissance. However you can still find incredible vintage pieces that remind us of the time when how you served a drink was as important as what went in it. Here are some amazing items that will take your imbibing to biblical levels.
A rare special-order Epi leather whisky set with sterling silver accessories marked Christofle for Louis Vuitton (Pullman Gallery, London).
A rare Victorian sterling silver spirit decanter in the form of a wooden barrel by Henry William Dee (1823-1896) (Pullman Gallery, London).
Consisting of a wooden serving tray, two silver cocktail shakers, cocktail picks, bottle opener, and jigger, c.1930s (Bergdorf Goodman, New York).
An enormous c.1930 silver plated cocktail shaker originally made as an exhibition or bar display piece (Pullman Gallery, London).
1950s Italian rosewood bar cabinet with fold-down door and two inner compartments (Nate Berkus, Chicago).
Mid-20th Century sterling and stag horn corkscrew and bottle opener set by John Hasselbring of New York (Architectural Anarchy, Chicago).
A rare special-order Louis Vuitton wine bottle carrier in the Classic LV Monogram pattern canvas from the 1930s (Pullman Gallery, London).
C.1927 American made replica of the famous Boston lighthouse, the first lighthouse to be built off the New England coast (Pullman Gallery, London).
A Modernist design Art Deco cocktail tray with a reverse-painted geometric composition in glass with a nickelled framework and Bakelite handles (Pullman Gallery, London).
A rare c.1868 silver bottle holder by Atkin Brothers of Sheffield, England in the form of a field gun carriage (Pullman Gallery, London).