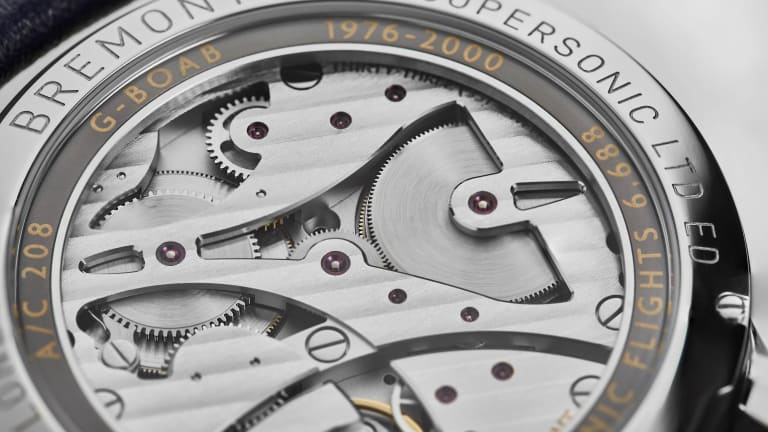 The Bremont Supersonic Is a Cool Tribute to the Legendary Concorde Jet
Bremont, the cool aviation and motoring-inspired watch brand founded by brothers Nick and Giles English, has partnered with British Airways in a horological tribute to the legendary Concorde jet. The Bremont Supersonic honors the iconic aircraft, which first flew in 1969 and operated commercially from 1976–2003 at a maximum velocity over twice the speed of sound at Mach 2.04 or 1,354 mph.
The limited-edition timepiece contains aluminum from the G-BOAB Concorde, known as Alpha Bravo, that was donated by British Airways to incorporate into the watch. Ahead of the Concorde's 50th anniversary and British Airways' 100th-anniversary celebrations next year, the effortlessly elegant timepiece was just unveiled at an event in London.
Available in stainless steel, white gold and red gold, the Bremont Supersonic, which contains the watchmaker's first-ever manual wind movement, has a stylish, somewhat 1970s look in tribute to the Concorde's design with a sunburst white dial, representing the jet's famous highly reflective paint.
The blue hands echo British Airways' livery and there is a subtle motif of the Concorde's streamlined silhouette on the second-hand sub dial. Aluminum taken from the plane was machined into a ring within the case back design, underneath the exhibition crystal, which displays the aircraft's key statistics: number and registration, years of active service, number of supersonic flights and top speed.
It also features an 8-day power reserve and has a power reserve indicator at the 12 o'clock position on the dial. To reduce drag and increase strength, a technique called sculpture milling was used to mold the Concorde's wing from one solid piece of aluminum such as that used in the watch, resulting in a wing free of welds and rivets.
The Bremont supersonic will be limited to just 500 pieces with prices starting at £9,495, or about $12,000: 300 in steel, 100 in white gold and 100 in rose gold. "Concorde was more than just metal," noted Bremont co-founder Giles English. "She inspired pride and emotion – that is truly a rare thing. It's an honor to work with a prestigious company such as British Airways and for them to trust us with their Concorde heritage."
Adds Nick English, "Concorde made the dream of supersonic travel a reality. She was a landmark in aircraft design and her incredible achievements make her a classic example of British engineering at its finest." Parts of the proceeds from the sale of the watches will be donated to the Air League Trust, which works to teach underprivileged children to learn how to fly and is part of a network of charities supported by British Airways.