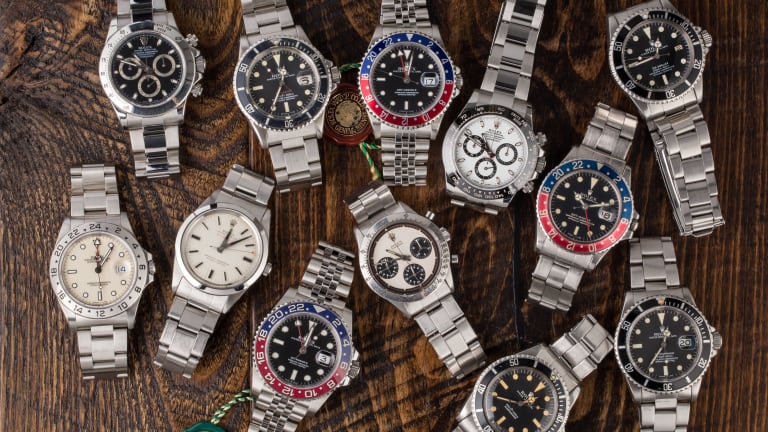 Don't Sleep On This Spectacular Online Rolex Auction
It's been a while since California-based Bob's Watches entered into the pre-owned Rolex market. But until now they've never seen fit to enter the auction market. However, their first-ever auction, running for one week only from September 5 to September 12, is about to kick off.
Rather than a sloppy collection of watches of all different ages and collectability, the Bob's sale focuses on 12 essential stainless steel Rolexes of varying vintages, from an ultra-desirable "Paul Newman" Daytona to the latest, and extremely hard to find, ceramic bezel version of the legendary racing chronograph.
Bob's teamed up with top Rolex expert Eric Wind of Wind Vintage to put the auction together, with every single piece accompanied by its original box and papers, by no means a given even at top auction houses. This is especially unique in the case of the Newman, a rare Ref. 6239 made in 1969.
The auction also features the most coveted new Rolex on the market, which already has a hefty waiting list: the GMT-Master "Pepsi" Ref. 126710BLRO. Both of the modern watches have a ludicrously low starting bid of $5,000 while the Newman begins at $175,000 and could go as high as $250,000.
Other highlights including a rare Milgauss Ref. 1019 with "CERN" dial made in 1967, a stunning Submariner Ref. 5513 from 1972, and a rare Daytona Ref. 116520 originally presented to a winning driver of the Rolex 24 at Daytona. "All these watches came from original owners and original families, and for many of them we are able to share the stories behind the watches," Bob's notes.
But what's really incredible about this auction is that several of the eye-popping pieces are from Bob's founder Paul Altieri's personal collection, which is one of the best in the world and worth millions.
And there are a number of other features of this sale you won't find at other auction sites: no buyer's premium – which can be quite hefty on pricier pieces at around 25% – a lifetime authenticity guarantee, a one-year service guarantee and free shipping within the U.S.
So if you've been trying to decide on the right time to start your own star-studded collection, the answer is now....