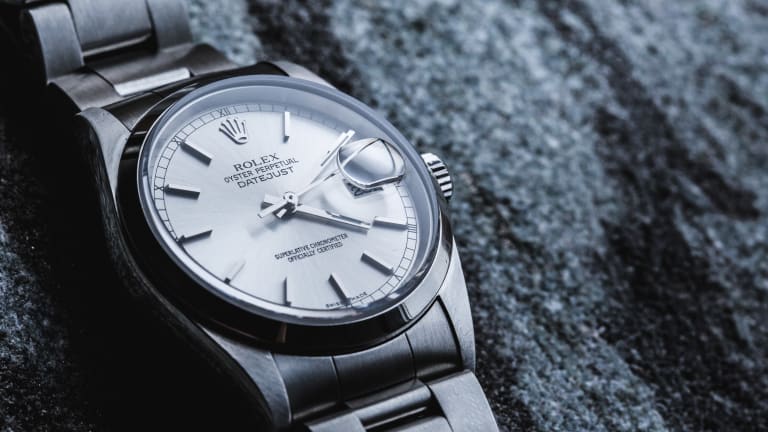 10 Best Rolex Watches for Every Budget – From $2,000 to $17,000
We've said it before and we'll say it again – there is no "right" or "wrong" reason to buy a Rolex, just a right and a wrong way to buy one. Dubious auction or classified listings with too-good-to-be-true prices are bound to end in tears eventually. To make sure you're getting the real deal, authentic in every way, you either need to buy at full retail or from a pre-owned watch dealer with impeccable credentials and ironclad guarantees.
Obviously full retail is going to come at a considerable cost, and unless you work on Wall Street it may not be in the cards. Which doesn't mean you need to forego the watch of your dreams. It just means you need to do a little more research and be content with the fact that while an older version of the same watch may look a bit different, it will save you thousands of dollars.
And because we like you, we've gone and done most of the legwork on your behalf. Here are ten great deals on pre-owned Rolexes to suit every budget for when you're ready to join the ranks of Sir Edmund Hillary, James Bond and Steve McQueen with a fine Swiss timepiece on your wrist.
Hands down the least expensive way to get a Rolex on your wrist, this is the quintessential gent's dress watch. With pre-owned prices currently starting at $2,600, vs. $6,150 for a comparable new Oyster Perpetual that doesn't even have a date window, this is a serious no-brainer.
Famous Fans:
Andy Warhol, Martin Luther King, Tom Cruise
The classic, original Explorer worn to conquer Mt. Everest has serious vintage appeal on top of being extremely versatile and under-appreciated. It's under-the-radar luxury at its near finest.
Famous Fans:
Matt Damon, John Hamm, Sid Mashburn
This is a rugged piece designed for conquering new territory, be it a bar in outer Brooklyn or an undiscovered peak in the Himalayas. It has a certain tough guy cred that wears well on many guys.
Famous Fans:
Prince Harry, Tom Hardy, Jason Statham
Stick with stainless steel for the most classic feel and you'll be in good company with the likes of 007 and the King of Cool.
Famous Fans:
Robert Redford, Steve McQueen, Sean Connery
One of the most modern Rolex designs, created for the well-heeled nautical set, the platinum bezel Yacht-Master isn't for everyone – but then that's part of the appeal.
Famous Fans:
Brad Pitt, Mark Wahlberg, Bruce Willis
One of the most interesting Rolex models, originally created to provide British Royal Air Force pilots with a reliable, easily readable watch that could stand up to the rigors of combat, Rolex recently gave it a redesign that sets it apart from everything else in the catalog.
Famous Fans:
Ryan Gosling, Orlando Bloom, Anderson Cooper
The scientists' Rolex, built to withstand electromagnetic fields, the Milgauss' unique color scheme and esoteric appeal give it a layer of depth that choosier collectors appreciate. Starting at $6,026 on Crown & Caliber vs. $8,850 for a brand new model, sporting a Milgauss can make you look like you have a PhD in something cool.
Famous Fans:
Daniel Craig, Tom Brady, Eric Clapton
A harder-core version of the Submariner able to withstand pressure at considerably deeper seas, those in the know appreciate its added complexity and also, of course, its snob appeal.
Famous Fans:
David Beckham, Tiger Woods, Tom Hanks
The new version of this watch, one of the most iconic timepieces Rolex has ever produced, only comes in white gold and will run you a whopping $41,000, so stick to a classic stainless steel "Pepsi" model instead, which is in fact infinitely cooler.
Famous Fans:
Clint Eastwood, Hunter S. Thompson, Hugh Laurie
This is a rare case of a pre-owned model selling for more than full retail, but that's a bit misleading because the waiting list for a new stainless steel Daytona is well over a year long. For $17,250, you can strap one on tomorrow, and revel in the fact that you're wearing the most desirable sports watch in the world.
Famous Fans:
Paul Newman, John Mayer, Adam Levine