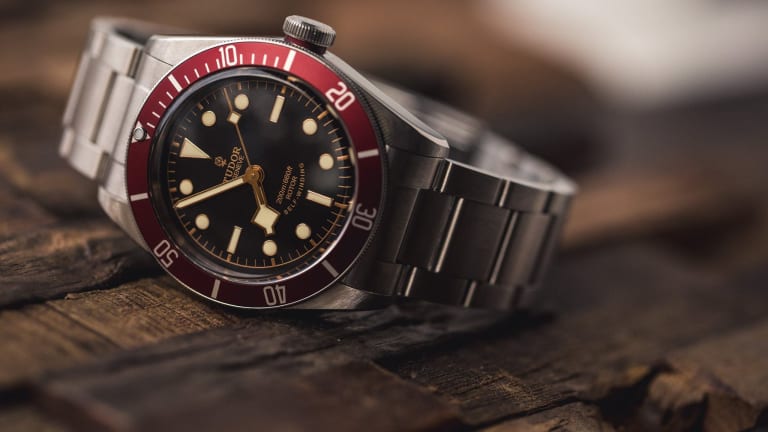 10 Best Luxury Watches With Cool Pops of Color
There are few ways for gentlemen with occupations requiring them to appear at the office in a jacket and tie to truly express themselves, stylistically speaking. Novelty neckties: never. Ditto "witty" socks.
Watches, however, offer all the opportunity you need to broadcast, in a subtle fashion, that you know how to cut loose – put the pedal down, bed the supermodel, hit the jackpot – when the occasion permits.
So here are ten great luxury watches with pops of color that express exactly that:
It's not easy being green – unless you're the bezel on one of the coolest Rolexes ever created, and have the balls to buck the trend of basic black.
The Regatta version of the iconic Luminor is made for yachtsmen, but the uncharacteristic (for Panerai) pop of orange is a stunning detail for any well-dressed fellow.
Jaegers that aren't Reversos often get overlooked, but here's proof that the famed Swiss brand is equally adept at creating a sporty chronograph that nonetheless has boardroom appeal.
This is one of the least subtle and most expensive watches on the list, but they don't call it a "Big Bang" for nothing. It says you've got a Ferrari in the garage downstairs – or soon will have.
This is a unique Top Gun with glowing green hands, markers and numerals; not for the faint of heart, but definitely for those who want to be mistaken for off-duty fighter pilots.
The Monaco, made famous by Steve McQueen, has gone through many iterations in its nearly 50 years, but this rare version features the famous Gulf racing stripes.
The ingenious addition of an inner orange ring and subdials outlined in orange give this watch some of the same extreme style as a bespoke Bentley with orange contrast stitching.
The Chopard Mille Miglia has become a modern icon with racing roots, but the GT Speed version takes it even further towards the finish line with a bold bezel with red numerals and indices.
We know we don't have to sell you on the Speedmaster's visceral appeal, but consider trading black and white for this high octane number with a pop of racing yellow.
A relative bargain in this company, the Black Bay has been one of Tudor's most successful modern evolutions, and the burgundy bezel on this beauty provides the perfect contrast to corner office clothing.