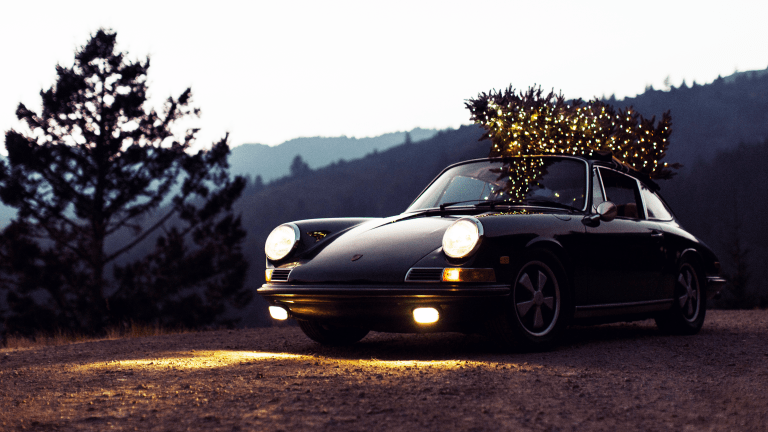 The Ultimate Holiday Gift Guide

We're proud to be playing Santa's helper again this year, kicking off the season with an epic assemblage of failproof gift ideas from some of the finest brands in the world. And if you decide to do a little shopping for yourself, we certainly wouldn't blame you.
Areaware Liquid Body Flask, $60

It doesn't look like it at first glance, but this cleverly designed matte black pocket flask is actually made from flat sheets of surgical-grade stainless steel. Even more stunning in person.
The James Brand The Stilwell Pen, $50
This pocket-sized pen expands to a full-size pen, making it the ideal EDC companion for those who never like to be unprepared. Even the I-don't-want-anything family members in your life want this.
The Monocle Guide Collection, $275
We love the striking design and photography in these hardbound linen books from Monocle, which make a statement on any coffee table. An impeccable gift for the designer on your list.
Fellow Monty Cup Set of Two, $47
The masters of modern coffee goods at Fellow built a sleek, contemporary ceramic mug designed with double-walled construction. Stackable for easy storage and dishwasher safe, it's the perfect gift for the impossible-to-shop-for.
Brooklyn-based contemporary artist Andy Blank doesn't think art should be expensive, so he releases his original pieces at extremely affordable prices with high-quality production and framing, often in a limited fashion.
The gorgeous Gina Smart Coffee Maker is locked and loaded with a handful of different technology-boosted brewing methods to go from pour-over to cold brew to immersion without multiple machines. It's also fitted with a rechargeable battery with 20 hours of brewing time and 30 days of standby so it won't clutter countertops with another cord.
Nomad Lightning Battery Cable, $49

Not only does this power solution from Nomad significantly upgrade the shoddy Lightning cable Apple provides with every iPhone purchase, but its rechargeable battery unit can get your device from red to green when you're in a pinch.
Help someone channel their inner Danny Ocean with this lockpicking set containing 14 individual pieces to help you open almost any lock. It arrives with a pocket-sized leather case to keep all its parts organized.
L'Atelier Du Vin Oeno Wine Pull, $160

Shopping for a wine lover on your list? You can't do much better than this ergonomically pleasing metal wine pull with a solid walnut handle and hefty weight.
The James Bond Archives Hardcover Book, $60
Luxury book publisher Taschen hit it out of the park with The James Bond Archives, a beautiful coffee table book highlighting the storied secret agent through an oral history recounted by 150 cast and crew members and rarely-seen photographs and storyboards.
Purist Collective Water Bottle, $50
Purist Collective builds their water bottles with an unbreakable interior glass lining, which eliminates that funky metallic taste. A cut above the competition.
Swiss-made and based on vintage watch designs from the early 1900s, the Zodiac Grandville is a stunning dress watch that's hard to argue with.
Material Knives + Stand Set, $200
Not only do each of these Japanese stainless steel knives deliver razor-sharp performance and superior strength but the included storage base adds lots of style to any countertop.
Handsome and minimalistic with a vintage feel, this reclaimed stainless steel tool organizer from Puebco is a great gift. (Especially when filled with other goodies.)
Add a little magic to any home bar with this levitating whiskey cup that's so unnecessary but also so necessary.
Best Made Co. Workshop Clock, $228
This clock for workshops and workspaces features a rugged metal box that can hide the time when you need to hunker down and focus on a specific task. If there's someone on your list who spends a fair amount of time in their garage, this would be a beautiful and appreciated addition to their setup.
SeaVees SeaVees Coronado Boot, $160
This dressed-down Chelsea boot from SeaVees is overflowing with both comfort and coolness. Slip-on convenience has never looked so good.
Brionvega Radio Grattacielo, $199
Created by architect Marco Zanuso in 1965, this eye-popping portable radio now includes Bluetooth connectivity and can be positioned vertically or horizontally depending on its surroundings.
Limited to 700 examples, this cool new timepiece collab punches above its weight with a minimalist approach and vintage dive watch design. Arrives with both leather and nylon straps.
The James Brand The Ellis, $99

The ultimate minimalist multi-tool ready for anything life brings, we can't think of anything we'd want more in our stockings this year than this.
Truff Black Truffle Infused Hot Sauce, $18
This unique and luxurious hot sauce blends ripe chili peppers and organic agave nectar with black truffle for a savory, spicy hot sauce that laps the usual suspects.
Luminox Atacama Field Automatic 1900, $890
Swiss-Made with superior construction and 24/7 readability thanks to the always-on lum that lasts for up to 25 years, this handsome Luminox field watch is a favorite of police departments and special forces for a reason.
Loaded with cedarwood and sandalwood aromas and notes of smoky amber, this oversized candle from Apotheke is the perfect winter complement.
Australian brand Bellroy designed this upgraded pencil case to keep your writing instruments accounted for but it works just as great for technology essentials like chargers, batteries, AirPods, and cables. Down with disorganization.
Whiskey Peaks American Mountains Whiskey Glass Set of Four, $65

If there's someone on your list who loves whiskey as much as the #seeyououtthere lifestyle, this is the obvious choice. Each glass features a unique topographic impression of one of America's greatest mountain peaks and is made from 100% lead-free handblown glass that's lighter than leaded glass but equally durable. Pair it with a good bottle.
Oliver Cabell Low 1 Sneakers, $178
White leather sneakers make for an exceptional gift because everyone on your list can appreciate its minimalist style. For our money, Oliver Cabell makes the highest quality version at the lowest price.
This classic canteen has tons of style in a durable, lightweight package. A stellar stocking stuffer at a great price.
NASA Graphics Standards Manual, $79
This reprinting of the NASA Graphics Standards Manual dives into the iconic brand identity of the space agency from 1975 to 1992, covering everything from logos to color schemes and beyond. Each copy is individually wrapped in a foil static shield.
Fellow Stagg EKG+ Electric Kettle, $199
This gorgeous matte black kettle design from Fellow is stacked with features ranging from Bluetooth functionality for remote control usage to a "HOLD" feature which keeps your boiling water at a constant temperature until it's ready for use.
Nomad Horween Leather AirPods Case, $30
We're expecting AirPods to be a very popular gift this season. If you really want to do it right, pair them with Nomad's stylish case made from vegetable-tanned Horween leather.
Danner Vertigo 917 Boots, $220
Perfect for urban and outdoor adventurers alike, these streamlined boots from Danner make a stylish statement while providing superior waterproof protection and durability.
Milled and finished from a solid bar of steel with a substantial and satisfying feel in the hand, this desk knife from Craighill is a handy (and handsome) addition to any workspace.
Grado Wireless Headphones, $249
Featuring a timeless design language and wireless technology, Grado's first-ever Bluetooth headphones are just plain awesome.
THAT! Inventions Deluxe Meat Thawing Board, $79
This clever kitchen device thaws meats and foods with an internal thermal liquid that removes the cold from the food and replaces it with heat. Like something out of a science fiction movie, it's a great gift for anyone on your list who's known to cook up a storm regularly.
The James Brand The Hardin Carabiner, $30
Drop-forged from high-grade aluminum stock and built with a dual-compartment design to secure your keys, this sleek and handsome carabiner from The James Brand will instantly upgrade any EDC kit—and makes for a flawless stocking stuffer.
Powered by an automatic Seiko-supplied NH35A movement alongside 300 meters of water resistance and finished with a charcoal grey ceramic "ghost" bezel, this beautifully solid build from MWC is one of our favorite watches under $500.
Designed to keep daily on-the-go accessories neat and organized, this handsome leather folio from Bellroy is designed for an e-reader or small tablet with dedicated spaces for other essentials like an iPhone and earbuds.