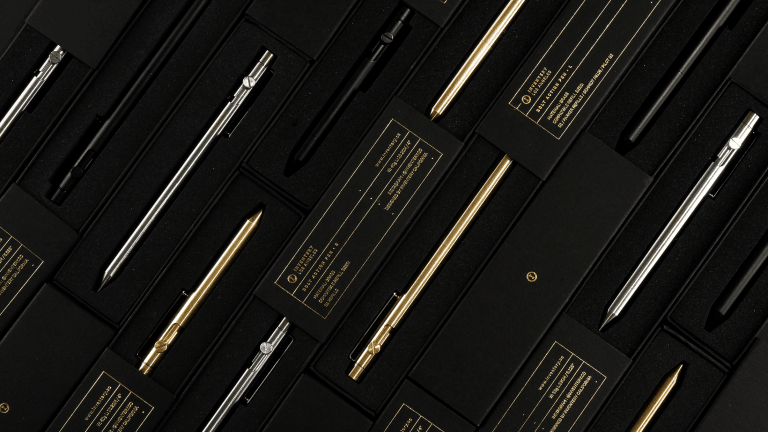 10 Great Gifts for Designers, Creatives & Aesthetically-Minded People

When it comes to seeking out holiday gifts for the creative people on your list, the process requires a little more thought. In aiming to please those with an interest in design, not only the item itself needs to be a paragon; the branding and packaging have to hit the mark as well while everyday objects become sublime.
Here are 10 great ones to consider:
Inventery Bolt Action Pen, $70
Precision machined from raw brass stock using a single tungsten blade, this pen's internal trigger has a tactical quality that would do Q Branch proud with a satisfying click to match.
Menu Stainless Steel Bottle Grinders, $135
The dull but necessary salt and pepper grinders become things of beauty in brushed stainless bottle form, with a powerful ceramic mechanism that can handle various spices.
Byredo Suede Hand Sanitizer, $30
Talking about dull and necessary, whoever though hand sanitizer could become a thing of beauty? Made in France and blended with almond oil, this one has a subtle fragrance.
Timex x Todd Snyder Maritime Sport MS1 Watch, $158
The best thing to happen to the affordable watch world in years, yet another home run from Snyder's collaboration with the American watch brand, paying homage to sporty nautical style.
Inventery Pocket Fountain Pen, $165
Precision machined in brass, this sleek instrument is perfect for anyone who wants to re-discover the art of writing by hand, or just up his penmanship game; it also converts to a ballpoint.
Tom Dixon Royalty Scented Gift Set, $155

Design guru Tom Dixon created this quintessentially British set with an aroma that evokes English summertime. It includes a nickel-encased candle, hand antioxidant-rich hand balm and hand wash.
Elevate your everyday coffee with this stunning minimalist vessel capable of making a refined pour over, a complex cold brew or a perfect cup of loose leaf tea as you prefer.
Ellsworth Kelly by Tricia Y. Paik, $37
Hard-edge painting, Color Field painting, Minimalism with a capital M – the late American artist Ellsworth Kelly mastered it all, and this must-have monograph from Phaidon is coffee table gold.
CoopDPS ZigZagZurich Wool Blanket, $205
This black-and-white beauty is made of 100% New Zealand wool, woven in Europe and created by design gods Nathalie Du Pasquier and George Sowden for their "Post Crisis Collection."
Stellavie Map I Northern Sky Print, $80
Want to know what you're looking at in the night sky? Forget apps – this signed and numbered map hand printed in Germany using custom-mixed inks is the way to do it while beautifying your abode.