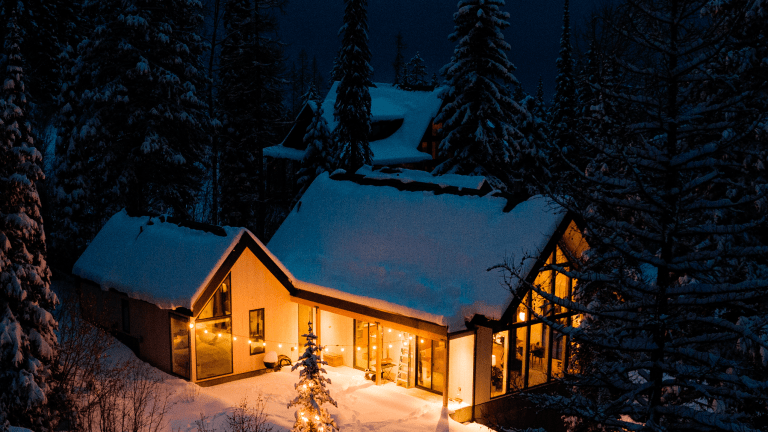 The Ultimate Holiday Gift Guide

We're once again playing Santa's helper with our annual holiday gift guide filled with a wide assortment of stylish items and failproof essentials from some of our favorite brands in the world. And if you decide to do a little shopping for yourself? Well, we certainly wouldn't blame you....
Not only is this water bottle incredibly sleek but it cleans 99.999% of bacteria thanks to the built-in UV-C LED purification system.
Throwing knives? Bad for home security, good for backyard target practice. And though it may not be the safest way to spend your Christmas afternoon—it's one of the most fun.
We've yet to meet a person who doesn't love their foam roller, which helps isolate knots in the muscles and relieve trigger points while stretching out your body. And this full-sized option from Morph is the ultimate one to gift, as it collapses flat for easy storage and easy transport.
Even more beautiful in person, this retro-inspired watch collaboration between Huckberry and Timex hits all the right notes at a very approachable price.
This Japanese-made toolbox with a minimalist sensibility is something every person can appreciate, which is why it's a perfect gift for the hard-to-shop-for and "I have everything I need" people on your list.
Design studio Areaware impresses with this beautiful yet challenging gradient puzzle, which is constructed from thick stock and high-quality art paper.
Design studio The James Brand is one of our favorite resources for stylish gear essentials and EDC staples. Some of our favorites include the lightweight Mehlville Carabiner carved from a solid block of aluminum, the Benton Pen with a 304 stainless steel barrel and a tan Cerakote ceramic coating, and the Cache River mini bit driver.
Sliding into a pair of these handsome slippers gives the "same satisfying feeling as a nice, steep pour of bourbon after a long day." Naturally moisture-wicking and odor-resistant, the comfort-focused design is finished with a stub-proof toe box and reinforced leather heel tab.
This visually beautiful set of Malcolm Gladwell's greatest hits (Blink, The Tipping Point, and Outliers) is sure to impress.
Oliver Cabell is expanding beyond footwear with its debut jewelry collection, which includes a small selection of subtle bracelets that do more with less. Stocking stuffer perfection.
If someone on your list has even a passing interest in cars, they will devour this stylish new book from Matt Hranek, former Esquire Network host and proprietor of Wm Brown.
No matter the person on your holiday shopping list, they will thank you profusely for this massage and recovery tool that washes away aches and pains with satisfying ease.
Built from rugged, crush-proof ABS with rubberized bumpers for absorbing impacts, this personal and adventure-ready ruck case is a great gift for anyone on your list who soaks up their free time by hiking, camping, climbing, backpacking, and more.
This take-on-anything navigator's watch features a clean look and adventure-focused details like an ultra long-life battery (approximately 10 years of continued accuracy) and plenty of LumiNova for sharp visibility in all lighting conditions.
This ultra-cool collaboration between RAEN and Huckberry features an exclusive new colorway and the "See You Out There" slogan on the inside of the frame.
Straight out of the desk of James Bond, this aluminum and copper pen integrates a phone stand, metric and inch ruler, a clip, a bottle opener, and a combination flat head and Phillips driver.
A "nice candle" has become a default gift for moms that are difficult to shop for. If you must, do it better with this gorgeous set of candles from Norden. Not only do they smell amazing but the ceramic casing can be reused as a stylish glass or coffee cup as easily as it can a succulent pot.
An eye-popping design move that also provides warm and detailed sound, we suggest pairing this turntable with a few rare records and a Sonos Amp for wireless speaker connection.
This any-occasion belt upgrade from Flint and Tinder is handmade in America from premium leather and is sure to be a staple in the recipient's wardrobe for years to come.
An unabashedly retro watch that's priced to sell, we're big fans of not just its sleek style but its ultra-comfortable expansion band made from stainless steel.
This handy device uses UV light to eliminate up to 99.99% of germs and bacteria in just five minutes. And though it's perfectly sized for phones, it's also effective on everything from wallets to AirPods.
This natural remedy instantly eases pains from muscle aches and arthritis thanks to a specially formulated mix that includes CBD. A great gift for the athlete in your family—or the parent who might be feeling their age.
If Steve Jobs designed a pocket knife, it would look a little something like this stunner from The James Brand.
Skip the standard box of chocolate from a shopping mall staple this holiday season and go with a special kind of brittle made from slow-roasted, stone-ground cacao beans aged in Pappy barrels.
This cool collection of Bond film photos celebrates legendary lensman Terry O'Neill and dates back to 1964's Goldfinger.
If you have someone over the age of 60 on your shopping list, chances are they are in desperate need of a new wallet. Save them from George Costanza-level pocket bulk and treat them to this handsome, minimalistic style from Flint and Tinder.
The world's most beautiful pepper grinder has arrived, which is not only ultra-satisfying to use but delivers a uniform sprinkle with every twist.
Handmade in Japan of translucent Zyl acetate with nylon anti-reflective backcoated G-15 Green lenses, these are the same sunglasses worn by Matt Damon in his role of Carrol Shelby in Ford vs. Ferrari.
Sneakers can sometimes be a little too personal to gift, especially with some of the adventurous styles we like to highlight on AIROWS. This slip-on sneaker from GREATS, though? Impossible to go wrong with.
This modern take on the M79 watch from Timex is one of the best values around and even offers an automatic movement on display via the exhibition case back.
Keep clear of high-touch surfaces with this machined brass germ avoidance tool from Keysmart, which is one of the sleekest stocking stuffers of the season.
The Voyager spacecrafts that NASA launched in 1977 were carrying golden records that contained a "snapshot of life on Earth" with everything from music to greetings in 55 different human languages to visuals of wildlife. And fortunately for the holiday season, it was recently reproduced as an ultra-cool box set.