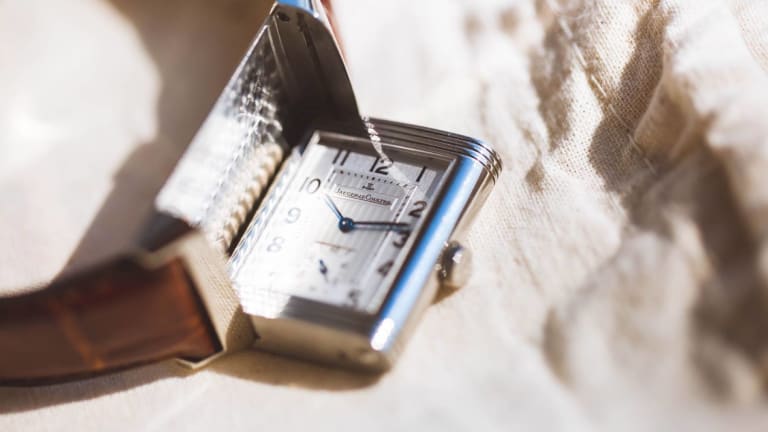 10 Luxury Watches You Can Wear With a Tee Shirt or Tuxedo
At some point, most men will have to decide between a sports watch and a dress watch when it comes to their first real luxury timepiece purchase. Your younger gent will inevitably choose the sports model, and then proceed to feel underdressed in the wrist department at more formal occasions for the next several years.
The solution: pick up a piece that bridges the best of both worlds, and that can take you from black tie to t-shirt without breaking a sweat. If you own only one luxury watch, and need something to accompany both a business suit and a wetsuit, invest in one of these classics – all certified pre-owned at the best possible price – and never look back:
The Reverso, which oozes Art Deco cool, was invented for polo players who wanted the watch's face to be protected during hard-fought matches.
The Tank Watch was invented by Louis Cartier in 1917 and supposedly inspired by a Frenbattle tank, but the result is pure, practical elegance.
No less an authority than Sid Mashburn calls the original Explorer the most versatile and stylish watch you can own. Nuff said.
The Vacheron Overseas is for the fellow who doesn't want to show up wearing the same watch as everyone else, but the cognoscenti will surely recognize a fellow master.
One of the sportiest watches on the list, the Superocean Heritage's steel mesh band somehow always compliments a suit while retaining its tough demeanor.
This is a watch for the man who likes to look a bit dangerous, as if he has an alternate career in some top-secret military outfit when not at his desk in the bank.
James Bond wears a Seamaster, and it serves him well on all occasions. Swapping the metal band for an alligator strap makes it more tux that tactical.
A lesser-known timepiece, again for the fellow who's not afraid to go beyond the mega brand names. Napoleon owned several Breguets.
This is a watch that oozes '70s style and may be the ultimate sport watch-dress watch hybrid. The price of entry is high but you will never regret it.
Ending on a high note, we have the iconic IWC Portuguese, so named for the savvy merchants and mariners who originally commissioned it in the 1930s.