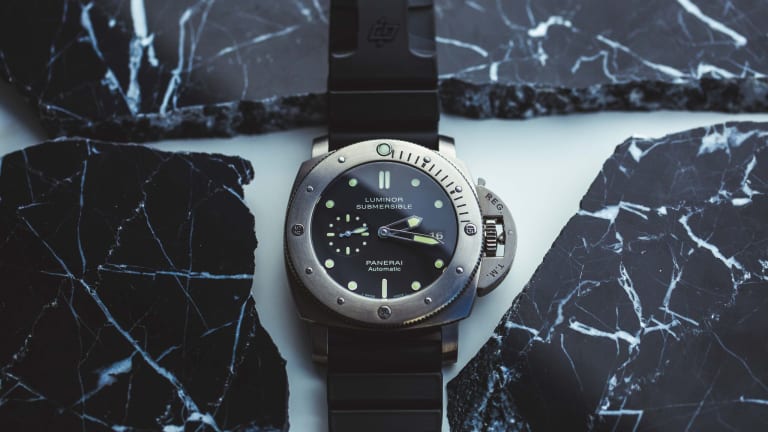 10 Immortal Dive Watches That Will Never Go Out of Style
All-time and future classics.
Immortal. Not a word we'd use lightly, but when you consider the fact that all ten of these dive watches have been spending the better part of the last generation only getting better with age, you'd probably forgive us for dropping even the slightest hint of hyperbole. Of course, greatness doesn't happen overnight – each of these selections was designed with clear intent, and purpose-built for people of action, earning them not only a place in our hearts, but a seat at the table of watchmaking's finest seafaring examples – for this generation, and all the ones to follow. Here are some pretty great examples currently up for grabs:
Yes, you could have predicted this one a mile away – probably because no conversation about lasting dive watches is complete without leading with the infallible Rolex Submariner. Not to be confused with its equally iconic, deeper-diving cousin the Sea Dweller, the original Submariner set the tone for legions of dive watches to follow, by mixing the capability and accuracy early explorers craved with the ultra-classic style notes approved by none other than king of cool himself – Steve McQueen. And of course, the rest is history.
As the younger brother to none other than Rolex, Tudor dumped nearly four decades of utilitarian artistry and dive watch know-how into the fully modern Pelagos, which became a classic damn-near overnight. Taking style cues from the highly sought-after Marine Nationale-issued pieces from the mid-seventies and mixing them with an ultra-modern titanium case, blinding luminosity, and a ridiculously cool adjustable diver's bracelet clasp, the Pelagos is an understated future icon, and a dark horse pick for a watch capable of usurping the mighty Crown from its place at the dive watch throne.
Range Rover. Peacemaker. Seamaster. Excellent in both styling and nomenclature, Omega's signature dive watch line is so classic in its execution and perfect in its naming, that in wearing one, it's hard not to feel a little bit tied to the watch's explicitly defined mastery of its own domain since the early 1930s. While the clean aesthetics of the traditional Seamaster 300m Professional offers an exceptional starting block for any style-savvy waterman, the Planet Ocean is where Omega's 75 years of nautical exploration and technical innovation becomes much more obvious. The Seamaster Planet Ocean is built to be the paragon for waterproofness, classic style, and industry-leading chronometric performance for years to come.
When it was introduced in 1967, the pioneering DOXA Sub measured a 'hulking' 42mm, due to its cushion-shaped case and exaggerated domed crystal. However, that purposeful design ensured the watch performed reliably at great depths and earned it the approval of Jacques Ives Cousteau himself, while enabling this progressive, if not quirky cult classic the ability to age gracefully, some 50 years later. These days, its vintage editions are highly wearable and sought-after, and the brightly colored modern re-issues are an easy pick for everyone from collectors in the know, to seasoned divemasters who wouldn't be caught below the surface without anything else on their wrist.
Marketed under the bold (and quite politically incorrect) tagline "Engineered for Men", the modern, second-generation Aquatimer is of an era where IWC made no attempt to hide the intended audience for its burly flagship dive watch collection. But with chronograph pushers that work underwater, brilliant low-light luminosity, and an aggressive, modern case design, there was also little hiding the fact that this was indeed a purpose-built watch designed for those who sought little else than a tool engineered specifically for the most unforgiving environment on the planet.
ISO 6425 is an international certification usually reserved for measuring the capability and reliability of gritty tool watches whose visual appeal usually comes at the expense of their singular purpose. However, the fact that Cartier's inaugural luxury diver has been subjected to the same torture tests and certified as such, makes it more than worthy of our list. Forged in Cartier's unmistakable art deco styling and design language which made its debut around the turn of the twentieth century, it's safe to say that this is a style that's rightfully earned its place on this list, and the ISO 6425 capability ensures it stays here.
Immortality isn't just about the past or present, but about the future – which is why the Bremont Supermarine gets the nod. Dreamed up by the youngest brand on this list by a wide margin, this 500-meter diver is still wise beyond its years, with its unique, multi-piece hardened stainless steel case construction, best-in-class shock resistance, and classic, yet sophisticated dial execution. It's ultra-capable and as fully modern as they get, without forgetting that the greatest dive watches won't just be here in 100 years, but they also manage to look like they've been here all along.
Few dive watches own a legacy that pre-dates even the advent of modern diving, but Panerai is one such brand, as its Radiomir came to life on the eve of the World War II where early prototypes would be deployed on the wrists of Royal Italian Navy commandos. Even as the Italian brand's visual aesthetic has subtly evolved over the years, were still treated to many of the same features and partnerships – like how variants are still being made for the Royal Navy Clearance Divers, continuing the traditions of the original frogmen, and solidifying Panerai's stance as a tool watch for military elite in the know.
Rated to 3,000 crushing meters (nearly 10,000 feet), or roughly 30 times deeper than where any sane human should be scuba diving, Breitling's signature 'super-diver' is clinical in its superlatives and unapologetically over-the-top – a veritable roundhouse kick to the chest owned by the time-honored traditions of Swiss watchmaking. Granted, even though the rugged, military-inspired aesthetic might not share some of the more classical elements found throughout the rest of this list, remember that the key to immortality is survival. And the first rule of survival? Be Chuck Norris.
There are dive watches that you remember, and then there are those that haunt your dreams. And while the Gerald Genta-designed masterpiece Nautilus is far from a dive watch purely by definition, it's quite simply the most remarkable luxury sport watch of the modern era, and we'd be remiss for excluding it on a list of water-worthy timekeepers that will be here long after we're gone.