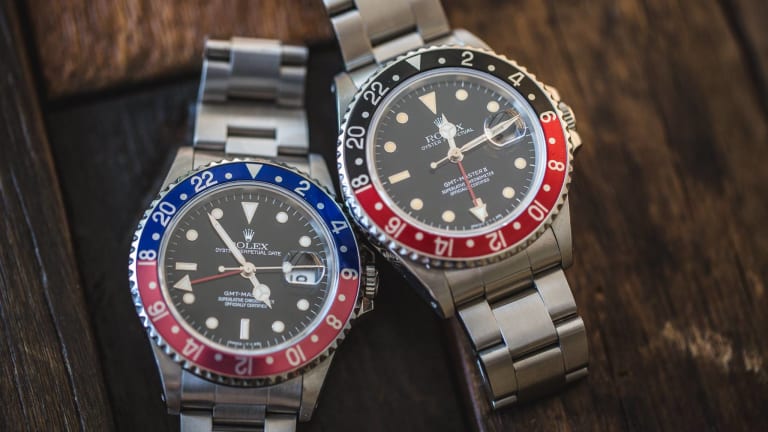 10 Beautiful Examples of Dual Time Zone Watches for World Travelers
In 1954 Rolex invented the dual time zone watch, named the GMT Master for Greenwich Mean Time, the mean solar time at the Royal Observatory in Greenwich, London which was used as the international civil time standard for many years. Adding or subtracting the prescribed number of hours from GMT would give you the time in any location in the world.
Pilots in particular on the new transatlantic routes needed to keep track of two time zones when flying from one to the other, though the feature appealed to the new breed of jetsetters in general. With its bold blue and red bezel the Rolex GMT soon garnered the nickname "Pepsi" and became an instant icon. But it's worth noting that many other watchmakers have since come out with their own GMT timepieces. Here are 10 of the best:
In the 1980s Rolex introduced the second generation GMT-Master and with it a new black and red bezel that of course was nicknamed "Coke."
Italian military watchmaker Panerai's GMT version of the iconic Luminor gives this watch both underwater and airborne capabilities.
The bargain of the list, this historic Longines model forgoes the special bezel in favor of an inner numerical index indicating the second time zone.
James Bond wears a Seamaster and the ultimate secret agent would find this GMT version quite handy for instantly telling the time back in London.
This blacked-out beauty is the most badass watch on the list, innately suitable for the pilot of a stealth bomber, for example.
Another pilot-dive watch hybrid, from the brand whose pieces outside the Reverso range are often overlooked in our opinion.
Cartier has traditionally been focused on simple yet utterly elegant timepieces like the legendary tank, but this more modern design has plenty of panache.
The boldest watch on the list comes from Chopard's collection in honor of Italy's famed Mille Miglia road race and has the flair of a classic Ferrari.
This is a pilot's watch through and through with much more of a vintage look than Rolex's steel creations, made in a limited edition run of only 1903 pieces.
One of the newest and far and way most desirable Rolex GMT variants is this model known as the "Batman" because of its black and blue bezel.