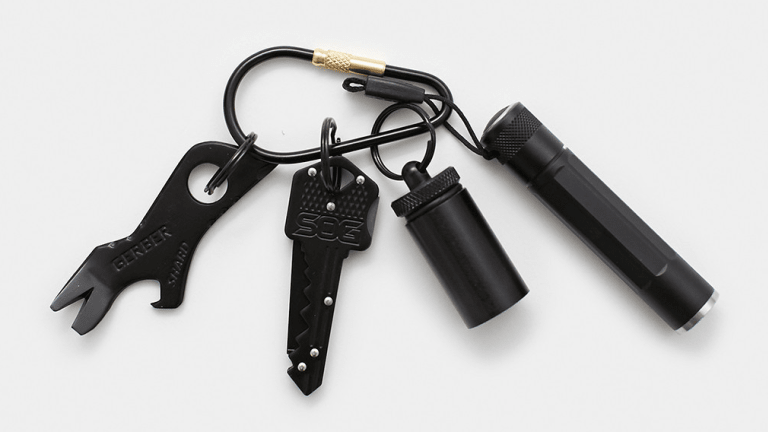 An All-Black-Everything EDC Kit That Will Seriously Upgrade You Keychain
And it's a solid deal.
A gentleman like yourself is almost certainly a man of adventure and danger, so you need need to always be prepared if you're even in a tough spot after cave diving in Thailand, in the middle of an international espionage mission for your day job, or camping in the wilderness with nothing more than a backpack and a Bear Grylls-esque attitude. Luckily--this EDC Kit has a handful of "nice to have on you" essentials that come in a cool all-black-everything look.
Here's everything that comes with the kit.
1.) Nano Cache Short
An airtight and water-resistant storage vessel designed to hold a couple pills, some folded up cash, or a range of small items that can assist when needed. Because sometimes in an emergency, a little cash can help more than the most trusted pocket knife.
2.) Key Knife
As if the all black finish wasn't enough to give this an undercover appearance, the seemingly normal house key flips open to reveal a secretive blade. The concealed drop point blade can be used to open boxes, cut some rope, or make quick work of a million little duties around a campsite.
3.) Shard Keychain Tool
Don't be deceived by its simple design, the Shard Keychain Tool handles more than you could imagine. The lightweight, airline safe device functions as a pry bar, large and small flathead drivers, wire stripper, bottle opener, and cross driver.
4.) INOVA XS Flashlight
Powered by a single AAA battery, the INOVA XS Flashlight boasts a surprising 194-foot range. With Low and High output modes, a durable aerospace-grade aluminum body, and water-resistant construction, the little flashlight is more savvy than it appears.
5.) R-10 Keyring
The gold screw clasp of the R-10 Keyring adds a small pop of color to your collection. The black keyring is made in the USA and keeps your new EDC kit in order.
Want this as bad as you should? Head here to purchase. It will only set you back $64.95.