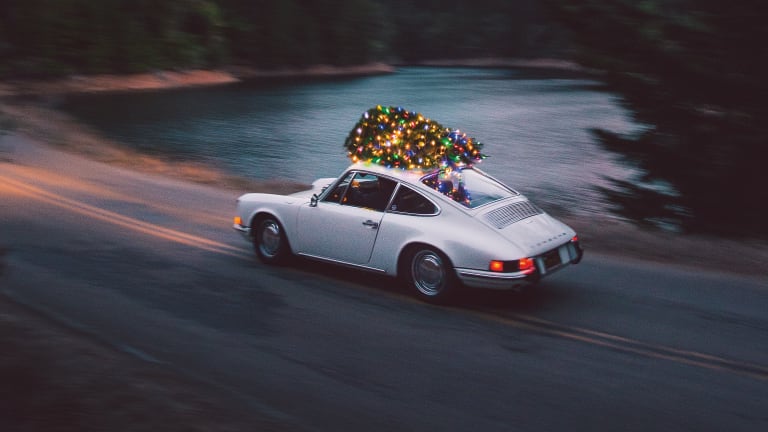 The Ultimate Holiday Gift Guide

Whatever holidays you're in the habit of celebrating, we believe that naughty or nice, everyone on your list deserves a gift that shows you put some thought into it. So we scoured thousands of offerings from the finest online shops to come up with this epic assemblage of cool items. Of course, you may end up buying a lot of these things for yourself....
When the world's best camera brand gets into the instant photo game, you want to buy in. As you'd expect the quality is better than anything else out there and you can use either color or black-and-white film as you see fit.
Not only an essential read but the bargain of the season from Matt Hranek of William Brown Project fame, this is a must-have for watch collectors, enthusiasts, and anyone who appreciates beautiful objects with a compelling backstory. $23.58.
The key to pulling off slippers is not looking like a slob, and upgrading to fine wool felt as in these Danish stunners is a simple solution. No wonder these have been called "the coziest indoor shoes money can buy."
There are a lot of scented candles out there; finding one that won't make your apartment smell like your grandma's froufrou home is more challenging. NYC artisans Le Labo have the solution with this smoky, leathery-toned number encased in a vintage-style tin.
Leather sneakers are all the rage and with good reason – they're the perfect blend of casual yet elegant insouciance. Common Projects created the modern archetype which has been widely imitated but never equaled.
The moss green color of this beautiful wireless speaker immediately sets it apart but beyond that, there's the amazing quality of all Bang & Olufsen products, which means it sounds even better than it looks. It's even compatible with Siri and Google Now voice commands.
Leave it to Todd Snyder to upgrade another iconic item of sportswear in the form of New Era's indispensable baseball cap. This version is crafted from premium British lambswool at one of the UK's most famous mills.
This tech essential is built with a tough polycarbonate back and a shock absorbent TPU border made to deter damage from accidental drops or falls. A textured, cutout back pattern provides superior grip so there's no chance your new iPhone will end up in little pieces.
Based in Tokyo, CHUP makes these gorgeous hand-finished, cotton blend socks in limited editions with intricate patterns inspired by nature and folk art. Your feet will say domo arigato.
For a while, it looked like pens were destined for extinction. Then the Japanese reminded us once again that even the simplest things can be beautiful when designed with impeccable restraint and perfect materials. The brass gives it ideal weight and balance.
Proving once and for all that a decent watch doesn't need to be expensive, this $140 marvel from Timex's Archive project combines historical know-how with contemporary design. Inspired by classic military timepieces, the stonewashed leather strap sets off a blacked-out steel case.
Eco-friendly desert boots – meaning all-natural suede aged for 30 days in a mixture of water, oak bark, and powdered mimosa with natural rubber soles – never looked, and felt, so good. Handmade in Northern Italy by a family that's been making boots for six generations.
The style on display in the Kingsman movies – of which we hope there'll be many – is as epic as the action, and these square-framed sunglasses worn by Taron Egerton are a nod to the great Michael Caine, who appeared in the first film.
An oversized waffle weave made with long-staple cotton gives these ultra-luxe towels their epic softness, absorbency, and quick-drying properties, turning your bathroom into the poshest spa you can imagine. Environmentally friendly to boot.
Compact but surprisingly powerful, this go-anywhere speaker from audiophiles Sonos is a perfect fit for small places or open spaces. It can connect to any Amazon Echo or Alexa-enabled device, and sets up in five minutes or less via your home wifi network.
Greats is the sneaker brand that's taking the world of kicks by storm with elegant leather looks without the inflated designer prices. This upgraded slip-on was inspired by style icon Nick Wooster.
Exclusive to our buds at Huckberry, this essential accessory in a cool charcoal/caramel colorway is sleekly shaped to avoid the dreaded pocket bulge that afflicts so many otherwise stylish dudes. The fine leather picks up a patina over time.
Streetwear meets morning coffee in this Japanese-made ceramic mug printed with "Guilty Parties" and "Paradise" – references to the cult label's tagline and Tokyo flagship store. Consider adding a shot of Japanese whiskey.
Combining turquoise from Arizona, Gulf of Mexico abalone shell, and bronze alloy, this might be the sexiest pocket knife imaginable. Your other accessories will be jealous.
A martini shaker is the anchoring essential of any well-stocked bar, but you can really elevate your mixology game by switching plain glass for cut crystal. Mouth-blown, hand-etched, and luxuriously weighty, this one should do the trick.
An homage to the rakish drivers of Formula One in the '60s and '70s with a nod to speedometers and roulette wheels, this is not your father's Timex. Design genius Todd Snyder added a dose of edgy NYC style to the timepiece, which is also the best bargain you'll ever strap to your wrist.
Breakfast is about to get a lot more decadent for your lucky recipient thanks to this American maple syrup aged in retired Pappy Van Winkle bourbon barrels. The result is bursting with flavors of vanilla, butter, oak and, of course, damn good whiskey.
The essential knit sneaker gets an upgrade in plush wool courtesy of Allbirds. Light as a feather, flexible, supportive and stylish, they're made with superfine New Zealand merino wool woven in Italy.
File under "things you never knew you needed": if you're going to attack your friends and neighbors with a volley of fluffy sugar, water and gelatin you should definitely do it with an artisanal wooden crossbow made the old-fashioned way in Canada.
There's a reason men have been cooking with cast iron skillets since the 1800's – long before kitchen stoves were invented. Pre-seasoned, virtually indestructible and with a (limited) lifetime warranty, this is the best investment you'll ever make in eating well.
Forget that chintzy plastic novelty opener you've been carrying around since college: this hand-forged beauty is heated to 2000 degrees, hand hammered, and finished on a wheel by a blacksmith in Portland, Oregon. And each one comes with with a copper rivet and leather tie.
One of the pricier items on our list is well worth the money. A timeless classic that's truly the only golf bag you'll ever need, this stunner is crafted with the finest full-grain leather available, and in addition to club storage, there's a pocket for balls, tees and essential accessories and another large enough to stow rain gear. If there's someone on your list who is an avid golfer, this is the ultimate present. Bonus points for custom embroidered initials.
Amazon invented the e-reader and now they've perfected it in the form of the Kindle Paperwhite. It has a higher resolution display with twice as many pixels, a built-in adjustable light, and zero screen glare, and a single battery charge lasts weeks. Yes, we said weeks.
A stainless Seiko diver is the first timepiece any future collector – or guy just starting to get into watches – should strap to his wrist. It'll take you anywhere you want to go, including 660 ft. under water, and to even get close to an automatic movement at this price is insane.
Even Navy SEALs need to carry cash sometimes, but you can bet they don't put it in some prissy designer leather pouch. This tactical solution features an expandable track for plastic and a secure cash clip, and blocks RFID-skimming devices to boot so identity thieves won't stand a chance.
The growler just got a major upgrade with this black chrome bar-hopper which can literally keep beer cold and fresh for weeks. Whether it's homebrew you're into or something special from your favorite hop house, it deserves to be treated like true elixir.
Leatherman makes the ultimate in pocket utility gadgets, as this classic featuring 17 tools in one compact, well-designed and field-proven package shows. It even includes a premium ballistic nylon sheath with three pocket slots for accessories.
If you're looking to take your watch game to the next level without breaking the bank, Autodromo, the effortlessly cool watch line designed by Bradley Price with a nod to classic Italian automotive style, is the way to go. The Stradale has more than its share of sprezzatura.
A vintage-style structured rope hat designed to keep you looking and feeling cool on the links but not too fussy – after all, Wabi Sabi's motto is "the art of imperfection." What Chevy Chase circa 1980 would wear to actually play golf.
An on-trend evolution of Greats' first original sneaker, the Bab v2 is "styled like a runner but built for the streets" with an ultralight mesh upper, plush honeycomb insole, and a sleek silhouette. But look further and you'll find high-frequency tape securing the seams for maximum durability, weight-saving heat transfers and grosgrain pull-tabs. Game over.
Planning on sipping something special over the holidays? Then upgrade your glassware to make sure it can handle the job. These tumblers specially designed to scientifically enhance the aroma of whiskey and give it a mellower, more "expressive" taste are a great gift, all the more so because your host will likely pour you one to celebrate.
Another masterpiece of artful living from the geniuses behind the Soho House empire, this beautiful book drops science on design, food, and drink, including everything from preparing the perfect burger to choosing entrancing artwork, and how to serve afternoon tea to how to light a room. Handsome reading.
Let's face it, folks, the air out there isn't getting any purer, but there's no reason to breathe it in unfiltered. And gone are the days when air purifiers were hideous contraptions from a cheesy catalog, as this sleek number shows – plus it's compact enough to take with you anywhere you go.
Made in the UK, this premium white leather "trainer" as the Brits call them transcends sneakers to amp up your all-round style. Based on the original upper design of NB Epic soccer kicks from the '90s.
An eminently thoughtful gift for those who like both spirits and the outdoors, this set of four handblown whiskey glasses features raised topographic impressions of some of the greatest, most majestic peaks in the world. Bottoms up.
Derian, the undisputed modern master of decoupage – the art of cutting and gluing images under glass – produced this highly curated collection of his most coveted images to grace your coffee table. Prepared to be inspired like never before.
A little less dramatic than the Eggsy shape mentioned above but no less cool, this second Kingsman collab with the UK's Cutler and Gross has plenty of secret agent aplomb. Be prepared for an onslaught of compliments.
It's called the Everyday Backpack for a reason: "adaptable to any situation you're in, no matter what you need to carry," thanks to custom dividers that can be used to endlessly configure the internal storage compartment.
If you've invested in a high-end automatic watch you'll want to make sure it's always on time. This handsome compact winder features an ultra-quiet Japanese motor and multiple rotation settings to suit your preference.