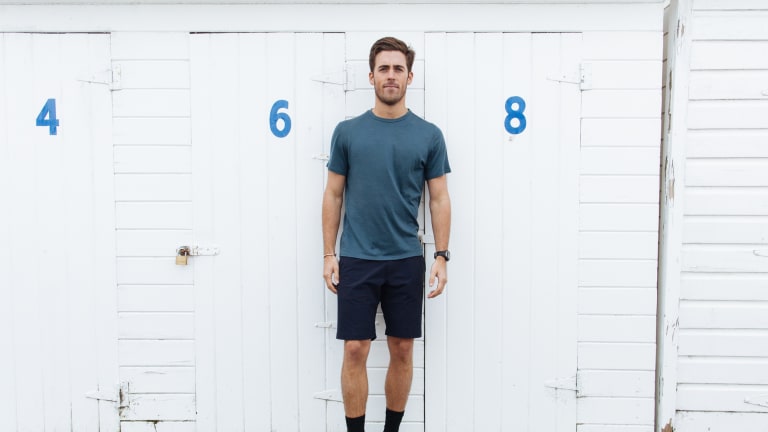 6 Essentials For Your Spring Fitness Kit
Maximize the season.
With the first few days of spring behind us, it's about damn time to take stock of your personal inventory and make a few updates. To get you caught up, we pulled six things from our shopping list. Each is built to maximize the season and help you live your best life.
San Francisco-based OLIVERS starts with the past to update athletic essentials for a modern context. Both pieces of the new Movement Kit, the Capital Short and Convoy Tee, were designed with one another in mind. The shorts are based on the classic chino design, updated with a four-way stretch nylon; while the tee is made with 100% merino wool. Pick one of each up and never think about what to wear again this spring.
Two years in the making, the Allbirds Wool Runners are designed to be the most comfy runner shoe on the market. Maybe you're are thinking, "a running shoe made of wool"? But this isn't just any wool. The New Zealand merino wool used on these runners makes them incredibly soft, lightweight, and breathable. Why didn't we think of that?
NRML is back, this time with an all new normal design and functionality. Custom made for your ear using 3d printing, these headphones are hand's down the best fit on the market. On top of that, they're sweat proof, wireless, and have a built-in charger.
Founded by an industrial designer and Incase alumn, AER is out to create sophisticated, modern bags for an urban lifestyle. The Duffel Pack is the cornerstone of their growing collection. One part backpack and one part duffel, this transformer is quickly becoming a go-to for many of AER neighbors in San Francisco and will soon be spreading all over the country.
Do you need a jump rope that displays your stats in front of you as you work out? No, absolutely not. Is this new smart rope from Tangram one of the coolest things we've seen? Yes, absolutely. So hey, at least this toy gives you a reason to work out a bit more.
When your sole purpose is to create jobs in Detroit, you have some flexibility in what you product. Shinola opened a watch factory in Detroit four years ago and since then have built some of the coolest American-made watches, bicycles, wallets, and journals. But some of our favorite products are more creative pieces like their domino set, dog leash, and this killer leather football. Perfect for a spring pick up game.