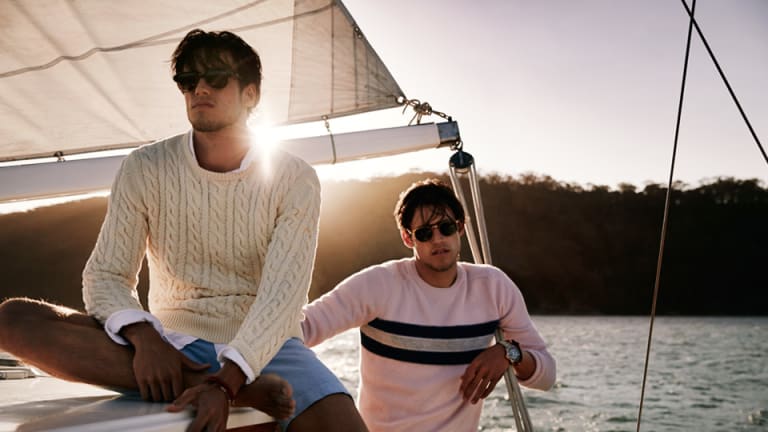 6 Coolest Sunglasses To Dominate Summer In
The most important accessory.
Nothing can make or break a look like eyewear. White plastic warp-around sunglasses could even make James Bond in a tuxedo look uncool, and reversely, a nice pair or Persol sunnies could make Dog The Bounty Hunter look like "the man." Here are a few that you can't lose in.
These are a fresh alternative to the classic and iconic Persol 714's--the ones Steve McQueen made famous--as they feature the same details but with a shape that's unique and different.
Made from lightweight and flexible stainless steel, these beautiful glasses from Berlin-based company Mykita feature the same aviator shape that looks good on every face, but with a look that's so different than the Ray-Ban aviators you see every chump wearing poolside.
60's inspired eyewear with gorgeous olive and brown tones, this is a look that's hard to disagree with. Whether you're the leader of a nation or a dude on a white sandy beach, this pair would look appropriate.
A little aggressive at first, sure, but the right personality and style can pull these off fantastically. Just make sure to pair with them with simplified and classic clothes to create a nice juxtaposition. These will look a little too "try-hard" with a brightly colored tank top and elaborately patterned swim shorts.
Hand-crafted in France, these round-shaped sunglasses are as sophisticated and stylish as eyewear can get. Fair warning, though--buying these will make people think you play guitar in the Arctic Monkeys.
Last but not least, we have these stunning sunglasses by Illesteva in blonde. This look is an amazing contrast to every other guy walking around in the sun with eyewear that's black or tortoiseshell. This color pairs particularly well with a nice tan--so trade that SPF 30 to something in the single digits.