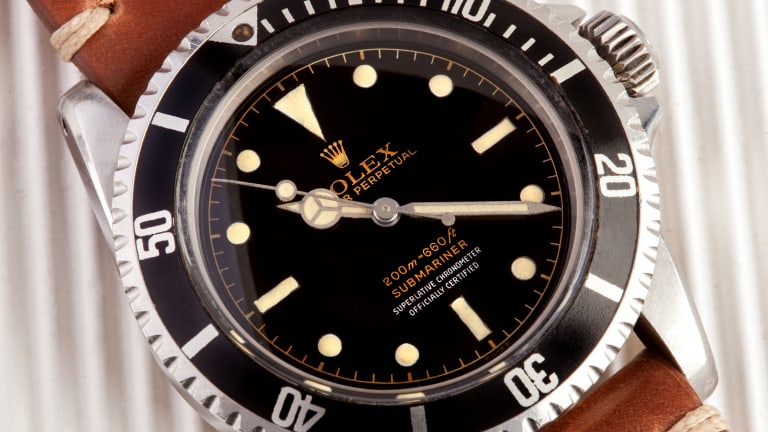 5 Things Everyone Should Know When Purchasing a Luxury Timepiece
Essential tips to keep in mind when deciding on a high-end watch.
Note From Editor: We've asked friend-of-the-site Paul Altieri, CEO and founder of Bob's Watches, to drop some knowledge on things every guy should know before dropping some hard earned cash on a nice new watch. He'll take it from here.
1.) Pick a Big Brand
If you're going to drop big bucks on a watch, the safest bet is go with a big brand, like Rolex. Not only will wearing a Rolex give you instant bragging rights because of its global popularity, the brand stakes its reputation on the products it manufactures, so you know you're getting a meticulously crafted piece of machinery backed up by a long history of expert watchmaking. Plus, much like buying a car, you should consider the after-sales factors of purchasing a luxury timepiece. With a powerhouse brand like Rolex, it's a breeze getting access to a service center to maintain and care for your new watch, and the piece will be easier to resell should you decide to down the line.
2.) Consider Your Style and Pick It Yourself
When investing your hard earned cash on a luxury watch, you want to be certain that you can wear it as much as possible. So go for a timepiece that you will be sure to enjoy wearing and looking at for years to come. Consider both your fashion style and lifestyle — classic, sporty, debonair, boardroom, edgy? Does the watch suit your work and play activities? If you lean more towards a classic sensibility, consider the Rolex Day-Date or Datejust. But if you prefer a more robust and sporty look, then a Rolex Daytona or Submariner may be more up your alley. And if you consider yourself a globetrotter, the Rolex GMT-Master II may just be your perfect travel mate. Remember: this is your watch. Don't choose it based on what your wife, girlfriend, or buddies will think. This is all about you and what you want.
3.) Think About Proportions
If you wear a suit that's too big, it looks like you've borrowed it from your dad. And if you wear one that's too small, then it looks like you've been holding onto it since your high school prom. The same rules apply to watches — get one that fits right. First, consider your wrist size. Yes, straps and bracelets can be adjusted to fit, but the size of the case must also be taken into consideration. Rolex case sizes range from an imposing 42mm with their Sky-Dweller collection to a modest 32mm with their very early vintage models, so it's easy enough to choose one that sits proportional to your wrist. Also, don't disregard your overall physique when trying on a watch. Wearing a timepiece that's too big for your build looks awkward, while a watch that's too small will get lost.
4.) Trust The Source
We all want a good deal, especially on pricey items. But in the long run, it pays to buy from a trusted source to avoid getting scammed. While that super cool Rolex selling at a killer price on eBay or Craigslist may seem like a steal, remember that Rolex watches are one of the most counterfeit products out there. So do your research, protect yourself, and buy only from reliable and trustworthy sources. Also, make sure you ask as many questions as you like before buying, especially when looking at vintage watches. Legit sellers should be comfortable answering any watch-related queries you have up your sleeve.
5.) You Deserve It
You work hard, take care of your responsibilities, and are an overall stand-up citizen, so go ahead and reward yourself with something awesome. A watch is a man's every day companion, so it's essential that it be something that you absolutely love. Invest in a solid, luxury timepiece, because after all, you earned it.