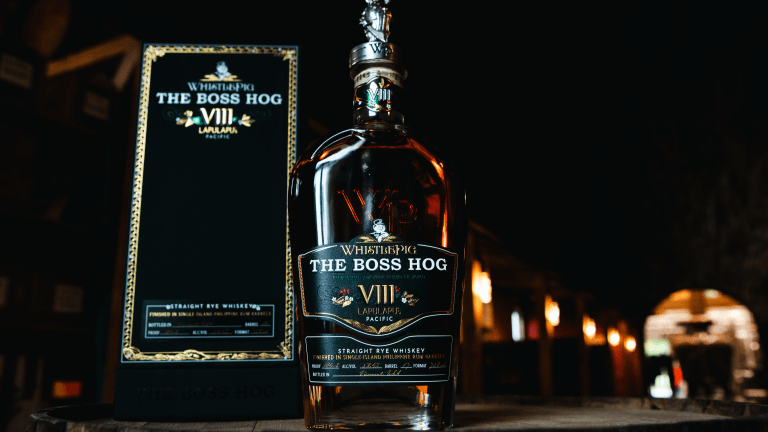 WhistlePig Reveals The Boss Hog VIII: LapuLapu's Pacific
Rejoice, people. The acclaimed Vermont-based distiller WhistlePig has just revealed its eighth ltd. edition The Boss Hog expression, aged for nearly 18 years in new American Oak before moving to high toast barrels that previously held small batch, single island, aged Philippine Rum. The double finish not only enriches the whiskey with elements of vanilla and caramel but mellows the profile and delivers luscious layers of complexity.
Officially dubbed The Boss Hog VIII: LapuLapu's Pacific, the release is a "sequel" of sorts to The Boss Hog VII: Magellan's Atlantic released last year.
"The Boss Hog VIII draws inspiration both historically and symbolically from the Philippines where Magellan met his fate at the hands of Filipino hero LapuLapu during the battle of Mactan," notes WhistlePig. "Magellan's journey ended in the Philippines on April 27, 1521, when the local victory dispelled the Spanish fleet."
Now, over 500 years later, LapuLapu is still honored as a symbol of strength and independence, and he's on display via the hand-made, collectible pewter pig that tops this edition of The Boss Hog. "For avid collectors, no home bar is complete without The Boss Hog VII and VIII sequel," they note.
As for the whiskey itself, it delivers vanilla aromas before moving to subtle tropical notes including underripe bananas and freshly picked lemon. Upon the first sip, a mix of ground cinnamon, citrus zest, butterscotch, and a hint of toffee is revealed. Next, brown sugar and nutmeg. Then, at last, a satisfying, long-lasting black pepper rye spice finish to close things out.
The highly-prized new release is bottled at proof ranging from 104.8 – 106.5 and carries an MSRP of $499 USD. And though a variety of premium liquor stores will be able to get their hands on a few bottles, we suggest ordering your own directly from the source.