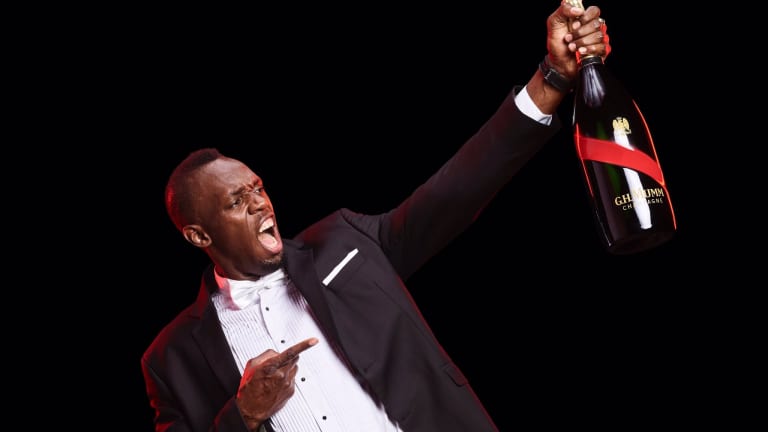 World's Fastest Man Usain Bolt Gets His Style On With Mumm Champagne
Celebrate to win.
You no doubt know Jamaican-born Usain Bolt as the world's fastest man. But did you know that he's embarked on a second career as the CEO of iconic champagne house Maison Mumm? That's CEO as in "Chief Entertainment Officer," and it turns out Bolt is just as brilliant at getting the party started as setting new world records.
Luckily for us, in his new capacity Bolt is willing to share his tips for coming out a winner, as this cool video directed by Luis Cervero of Pharrell Williams' "Marilyn Monroe" fame shows. In it Bolt boogies with stunning Jamaican Miss Universe contender Yendi Philipps and offers his signature expression of Maison Mumm's motto "Dare. Win. Celebrate."
Obviously, Bolt could have been a professional dancer but we're sure the Mumm gig is much more fun. Not least because it's been the champagne of choice for chic celebrations and toasting sporting achievements for many years.
Bolt, widely acknowledged as the greatest sprinter of all time, is an eight-time Olympic gold medalist. He's the only sprinter to win Olympic 100 m and 200 m titles at three consecutive Olympics (2008, 2012 and 2016), a feat referred to as the "triple-double." His awards include the IAAF World Athlete of the Year, Track & Field Athlete of the Year, and Laureus World Sportsman of the Year.
Mumm's has had strong ties to sporting achievements for decades, including sailing, motor racing, and horse racing. Most recently, they've starting sponsoring Formula E racing, the next generation of Formula 1 style racing with electric cars. The red ribbon on Mumm's iconic bottle represents the numerous victories and accomplishments of its devotees.
The clip opens with the elegantly dressed Bolt arriving at a hip nightclub in the dead of night. He proceeds to amp up the crowd before strutting his stuff with Philipps which ends with him shedding his dapper threads to reveal running gear and stepping into runner's blocks. That's when we realize Bolt has been celebrating his victory before even running the race.
"Don't win to celebrate," he advises, "celebrate to win." Words to live by....