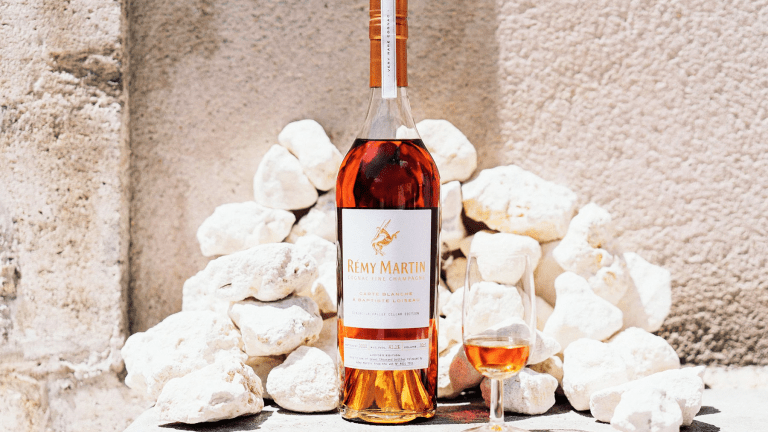 Five Things You Didn't Know About Drinking Cognac
This time of year we find few things more warming and welcome than a glass of fine cognac. And while you're probably picturing a late-night snifter by the fire—and there's certainly nothing wrong with that—there are many more ways to enjoy the iconic twice-distilled brandy from the Cognac region of France.
We enlisted Baptiste Loiseau, Cellar Master of famed French cognac house Rémy Martin, and Cédric Bouteiller, Rémy Martin's official Mixologist, to reveal some of the ways to appreciate cognac that you probably didn't know about. Read on and prepare to up your cognac game:
It's not just for after dinner.
"The moment to drink cognac does not really matter," Loiseau, who is entrusted with the responsibility of both continuing Rémy's centuries-old traditions and helping it evolve, tells us. "it can be before or after dinner, as long as you have pleasure sharing it with people you care for."
It also pairs well with food.
"With the Chef of Rémy Martin House we imagined three pairings to accompany Rémy Martin XO," which is aged up to 30 years in French oak casks, Loiseau says, "and worked with ingredients and flavors complementary or contrasting with XO tastings notes. Parmesan cheese or Parma ham, or saffron dip are flavors that go well with Rémy Martin XO."
It makes a mean Old Fashioned.
"The perfect cognac cocktail is our iconic XO Old Fashioned because it invites sharing and celebration," Bouteiller tells us. "Rémy Martin XO is elegantly highlighted with only one lump of brown sugar and three dashes of bitters. It respects the opulence of the aromas of XO: qualitative, powerful, opulent and fruity. It evolves from the beginning to the end as the ice is diluted, bringing out the aromas of this cocktail."
You don't have to use a cognac snifter.
"To go back and highlight the roots of our terroir of Fine Champagne," one of the finest quality wine-growing areas of the Cognac appellation, Loiseau notes, "and also let the nectar breathe throughout the tasting, a white wine glass would be the nicest way to enjoy Rémy Martin either neat."
You can drink it over ice.
"My favorite way of enjoying Rémy Martin is XO on the rocks with a large ice cube as an aperitif or a digestif," Bouteiller says. "XO on ice is an excellent experience. The coldness reinforces the consistency and richness extolled in the distillation process. It's all a question of taking your time and sharing your impressions to unveil all the aromatic layers of the cognac."