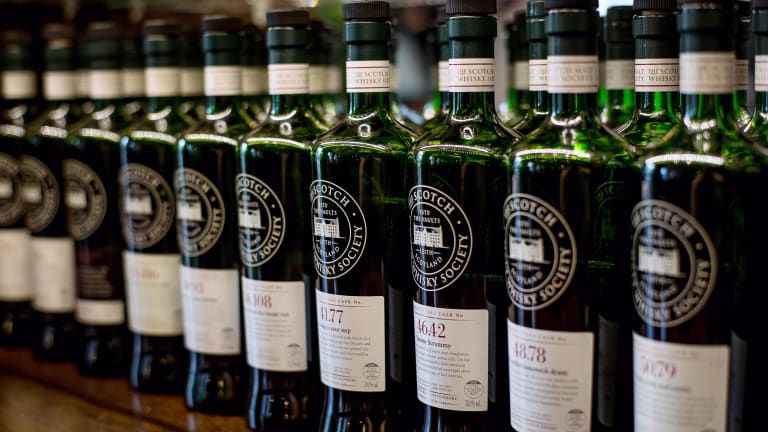 This Club Gives You Exclusive Access to Some of the World's Best Whisky
Members only.
We know you're always on a quest to out-do your buddies by not only drinking the best and most exclusive whiskies, but also by knowing the most about them. Let's introduce you then to your ultimate trump card in this little game of one-upmanship—The Scotch Malt Whisky Society.
The membership club began in 1983, after essentially starting as a private venture several years prior, with a group of friends buying entire casks of whisky straight from the distilleries they loved. Over three decades later, and the SMWS has 25,000 members across 19 countries, three exclusive and mesmerizing members-only lounges in the UK, and dozens of other partner bars around the world.
What is the Scotch Malt Whisky Society?
The Scotch Malt Whisky Society handpicks casks from a lineup of over 130 distilleries— primarily Scotch, but also from Japan, the U.S., and beyond—delivering unique whiskies that nobody else will ever have. They source only the best stock they can get find, and always stick to that single cask credo which began decades ago.
In addition to obtaining these stellar and exclusive whiskies, another component to the SMWS is their labeling system. Rather than giving you the distillery's name, the label is a two-part numbering system. For instance, we recently sampled 46.31 at the lush new Manhattan lounge Fine & Rare. The first number, 46 in this case, references a specific distillery, and the second number, 31, references the number of casks that the SMWS has released from that distillery.
You can look up the distillery codes if you'd like, but what this does is disarm you of ingrained brand biases. You'll fall in love with drams from distilleries you would never have tried before, and you'll expand your boundaries far beyond any preexisting personal favorites.
Each unique cask also comes with a descriptive name—to give you an idea, that 46.31 was "Sniffing a Bee's Knees," while at the lavish Edinburgh 28 Queen Street location, we've sampled from bottles such as "A Sultry Soiree," "Calming, Warming & Comforting," and "Chim, Chim Cheerie"—to help you inform you of its overall character.
The rest of the label is loaded with all of the key details you need to up your own knowledge, including tasting notes, the type of cask it was matured in, how old it is, and how many bottles are in the release. And while those names are spectacular, they can be a bit off the wall, so to make sense of what each whisky is really like, they're all classified into 12 flavor profiles, whether Spicy & Dry, or Sweet, Fruity & Mellow.
Becoming a Member
Membership starts at just $99 for the first year and thereafter is $70 per year. Note, this doesn't include the whisky, this gets you access to their exclusive selection which you can easily buy and browse online, and have delivered across the United States. You better move quickly when you spot a new release that you like, too. An average cask of whisky may produce 225 bottles—or it could be half as many—and once a particular expression is gone, it's gone.
Other member perks include invitations to exclusive tastings and events, access to those private venues in the U.K., subscription to their quarterly whisky magazine Unfiltered, and a network of industry pros on hand to answer your questions or help plan your own whisky event.
You can also send a gift membership, buy a tasting kit with multiple samples, or join their bottle of the month club, featuring best of the best selections courtesy of Amanda Victoria, the SMWS's do-it-all educator, ambassador, and communication director for the U.S.
Speaking of gift memberships, with Father's Day right around the corner, starting June 1st the SMWS is offering a special membership + bottle gift combination for $199. Named "Put Your Feet Up, Dad!" the release is cask 85.42, and only 35 bottle/membership combos are available.
Again, you gotta strike quick. Happy hunting–here's to drinking like a pro.