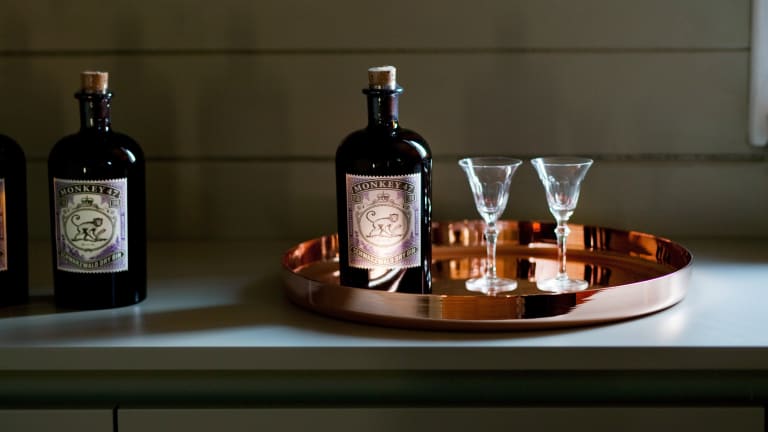 Inside the World's Most Beautiful Gin Distillery
The Black Forest is staggeringly gorgeous. With sweeping fairytale views of dense fir trees and architectural choices that feel trapped in time, the German region is straight out of a storybook. Though headless horsemen aren't jaunting through the streets and mystical creatures don't scurry through the forest, it feels as if there are. There's a certain whimsy to the town that's so authentic it almost comes off as fake, as if everyone you meet is a Disneyland employee in character. It's quite charming, and frankly, unlike any other place in the world.
That whimsical nature rubs off on Monkey 47, the premium gin distillery that calls the Black Forest home. From its lively mascot and copywriting to the outlandish photo shoots they commision, there's a certain playfulness to the brand that's juxtaposed perfectly against the premium illustrations and typography, like a Wes Anderson movie remixed by Monocle. Where competitors focus on glitz and glam, Monkey 47 doubles down on exuberance.
Its founder, Alexander Stein, unsurprisingly exemplifies that same spirit. He's outgoing and talkative, cracking jokes at the lunch table like your uncle, only if your uncle was insanely successful, well dressed and collected vintage Land Rovers. He's also a bit of a design freak, taking almost as much pride in the distillery's aesthetic choices as he does the special combination of 47 botanicals that go into every single small batch.
The "monkey's holy temple," as they call it, is filled with rich natural materials and minimalistic decor that's more reminiscent of an Aesop retail location than a traditional gin playground. The centerpiece of the facility is the gleefully titled Apparatus Alembicus Maximusa, a one-of-a-kind distilling operation crafted by Arnold Holstein, a Markdorf-based coppersmith who spent over two years designing and manufacturing the functional work of art.
Not only an aesthetic choice, they rejected an industrial approach that would have promised greater production, ditching the conventional 1,000-liter still in favor of four 100-liter distilling vessels. This gives them the ability to fine-tune the extractability of their botanicals to the distillation cycle, resulting in higher-quality gin. "It's the difference between cooking dinner for four and 100," Stein puts it.
Time to find some tonic....