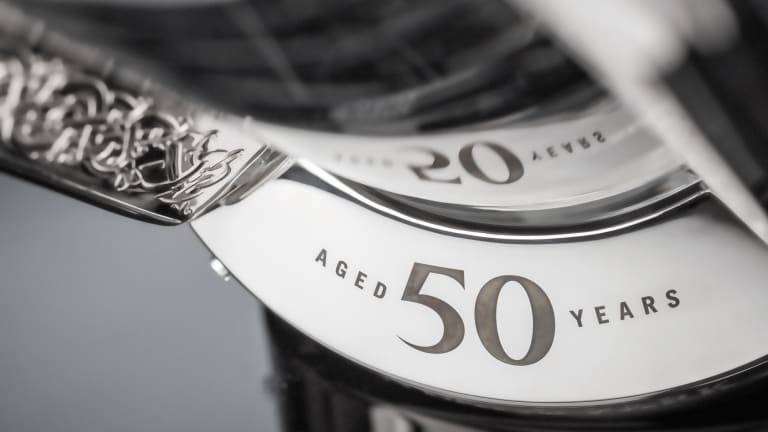 Here's Why Highland Park's New $15,000 Single Malt Is Worth Every Penny
Highland Park, the iconic whisky distillery founded in 1798 on the rugged island of Orkney off the North Coast of Scotland, has just come out with one of the rarest and most beautifully presented single malts on the planet.
The new Highland Park 50 Year Old is the storied brand's oldest and most prestigious bottling in nearly a decade and is being released in an extremely limited quantity which will no doubt quickly be snapped up by collectors.
Only 274 bottles will be available globally with only 77 of those made available for purchase in the U.S. this fall at $15,000 per bottle. Each one is individually numbered and hand-signed by Highland Park's longest-serving whisky maker, Max McFarlane.
The precious whisky itself was distilled in the early 1960s, when, as Highland Park notes, the world was a very different place. After 50 years in wood casks it "elegantly reveals the poetry of its quiet years in solitude and also the powerful history of Orkney, its island home," as Highland Park so eloquently puts it.
"We hand-bottled this Highland Park 50 Year Old from just two sherry-seasoned Spanish hogshead casks laid down in 1964, over half a century ago," McFarlane (below) relates. "We first discovered the casks in 2008, at the very back of a warehouse, and we were astonished by their incredible flavor."
"But bringing two hogsheads of such extremely rare liquid off the island to be 'married' at our warehouse in Glasgow was not without its challenges," he notes. "Justifiably nervous of the whisky's great rarity, we decided that the two casks simply couldn't be allowed to travel together. Rather, like members of the Royal Family, each cask made its journey alone, one in September and one in October. Briefly parted after nearly 50 years spent side by side, the two hogsheads were then reunited for a further eight years."
Intensely rich with an ABV of 42.5% (85 proof), the 50-Year-Old is clear and bright with a deep natural ruby color. On the palate, it is initially sweet with notes of ripe black cherries and molasses-tinged sugar giving way to dried autumn fruits and warm, toasted wood. Finally a hint of cedar "wraps around" Highland Park's signature light peat smoke, giving way to a lingering finish.
Highland Park 50 Year Old is presented a highly embossed bottle created by Scottish designer Andy Bowman. It comes in a bespoke oak box designed and individually handmade by Scottish master craftsman and designer John Galvin, which also holds a highly polished crystal and silver decanter, as well as a brown leather book that describes how the whisky was created.