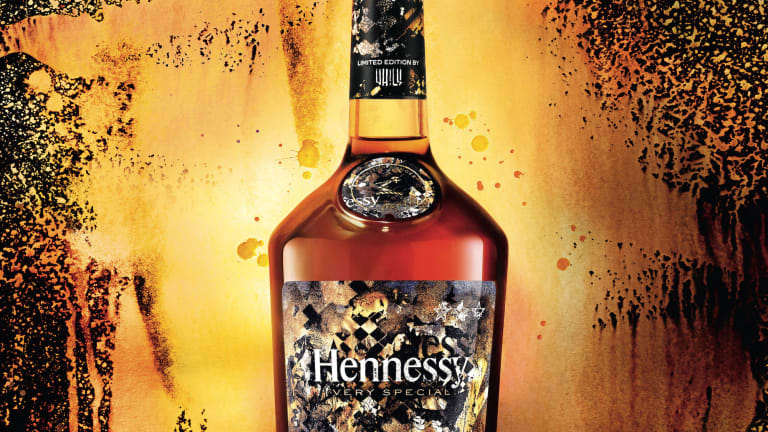 Hennessy's New Collaboration With Banksy Pal Vhils Is a Cocktail of Cutting-Edge Art
Famed French cognac house Hennessy has unveiled a cool new collaboration with cutting-edge Portuguese street artist Vhils on a limited edition bottling of its iconic V.S (Very Special) expression. Vhils, a friend and co-conspirator of Banksy, is known for the enormous and elaborate portraits he carves in bas-relief directly into plaster and brick on walls in cities around the world.
The custom-designed V.S (Very Special) bottle, which comes in a bespoke gift box and is bound to be coveted by collectors, will be available across the U.S starting in July. For Hennessy, founded in 1765, it's the latest in a long line of artistic and creative collaborations which in recent years has included the likes of Futura, Shepard Fairey, Ryan McGinness, Marc Newson, and A$AP Ferg.
Rooted in the artist's motto of "Making the Invisible Visible," Vhils created multi-layered composite artworks after a visit to the Hennessy chateau and maison in Cognac where he searched the archives for inspirational elements from the brand's rich history. The finished product, handsome enough for prime position on your home bar, was rendered in the deep gold and amber hues of the cognac itself, the result of careful aging in Hennessy's priceless cellars.
The bottle and gift box design began with Vhils' pioneering screen print technique, incorporating ink, bleach, and acid on paper, resulting in a richly textured work layered with fragments of historic Hennessy billboards and symbols such as grapevines, the Hennessy family coat-of-arms, and the three stars which originally distinguished Hennessy V.S in the cognac grading system created by Maurice Hennessy in 1865.
To celebrate the collaboration Vhils will embark on a worldwide tour with Hennessy to reveal the new V.S Limited Edition bottle to the public and create "immersive new art experiences" in cities such as New York and Chicago as well as overseas. In every region they visit Vhils and Hennessy will highlight musicians, artists, and "socially engaged individuals working to promote creative expression in their communities."
And drink some damn fine cognac along the way, of course. They have also created a cocktail in honor of the collab which is a great way to see how well V.S mixes, lest you think it's only for sipping by the fire. Bottoms up:
Hennessy V.S Make the Invisible Visible Cocktail
Ingredients:
1.4 oz. Hennessy V.S
½ oz. Lime juice
0.3 oz. Monin vanilla syrup
4 oz. Fever Tree ginger beer
Metal straw
Method:
Pour Hennessy V.S, lime juice and vanilla syrup into a chilled tumbler
Add ice cubes and top with ginger beer
Stir with bar spoon
Garnish with metal straw and serve
Repeat as necessary