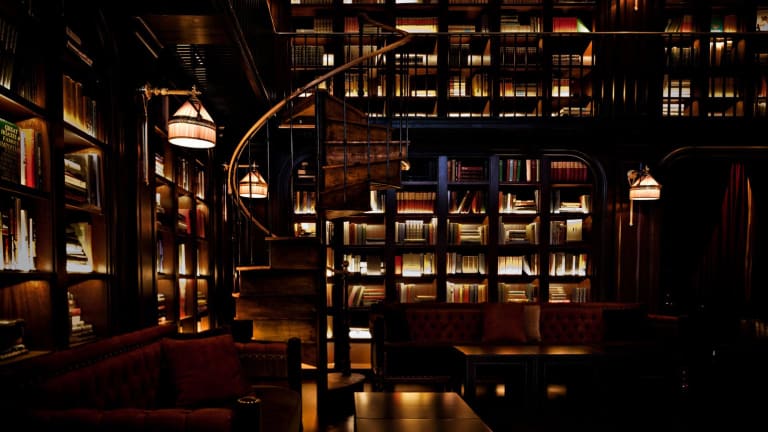 The 10 Coolest Date Spots in NYC
Keep your cool, we got you covered.
There's a million places in NYC you can grab dinner and drinks, here's a list of some spots that meet our standards for amazing food, drinks and ambiance.
Navy is one of the coolest seafood restaurants in town. Located in Soho, it's small, intimate, and every dish is pretty much food-porn. Everyone is raving about it for good reason, it's perfect.
Smith & Mills is an old garage transformed into a perfect Tribeca restaurant with tons of character. Good food, good tunes, good service, and an attractive crowd just makes people happy. It's the kind of place where you're always tempted to order one more glass of wine and stay just a bit longer.
A few years ago when this place first opened, its roasted chicken for two dinner got rave reviews. Usually a chicken dish isn't worth talking about, or making reservations a month in advance for, but this one is nothing short of a mouthgasm. The ambiance is unbeatable and sneaking one more drink in the library room after your dinner is highly advised.
Laduree is on the expensive side, it's well known and very scene-y. You might see some models and celebrities, as well as paparazzi lurking around the back entrance, but it's also amazing, has excellent macaroons, and is one of Soho's only garden restaurants. Just take one look at how gorgeous the backyard is and you'll understand why it's a perfect place to take someone special. Stick to the summer months, make reservations, and always wait for the outside seats.
There's plenty of French restaurants in NYC, but Buvette is all you really need. Owned by renowned chef Jody Williams, who also owns another location in Paris, this place is nothing short of perfect. It's on a romantic little street in the West Village and it's the kind of place where you're not sure what's more beautiful – the restaurant or the food.
EXPERT TIP: The Buvette cookbook is gorgeous and makes an excellent gift and they often have signed copies in the restaurant.
Arturo's is what we call a traditional "red sauce" Italian spot that has been going strong since the 1950s. There's outdoor seating, brick oven pizza, the perfect kind of live jazz that you can still carry a conversation over, and it doesn't break the bank. Everything about this place feels like a scene in an old mobster movie, but in a good way.

Aside from being one of the most romantic places in the West Village, it also has one of the most luxurious dry aged burgers in NYC. Take a look at their Instagram, it's okay to drool, we are too.
Cafe Minerva is a surprisingly cheap yet beautiful spot in the West Village. It's been around a long time but it's designed so well, the food is French, the staff is friendly, and the entire wine list is $20 a bottle. While nothing here is worth raving about, it's still wonderful. Cafe Minerva looks kinda stuffy at first glance, but it's actually a perfect atmosphere for good conversation and a bottle of vino.
Death & Co. is partially responsible for the trend of the "speakeasy" returning across the country. They don't take reservations so you have to go put your name on the list and they text you when your table is ready. Go check it out and you'll understand why they won so many awards. The drinks are top notch, the food is great, and it's as dark and sexy as a date night environment can get.
Easily one of the most memorable and romantic environments in NYC, this spot is heavily focused on cocktails and spirits, but there's also a solid food menu. The attention to detail in both the interior design and drinks is impeccable – it's the kind of place that feels like you just stepped into a time machine. You could easily imagine Frank Sinatra or Jay Gatsby getting comfy here. Make reservations, it's usually too busy for a walk in.