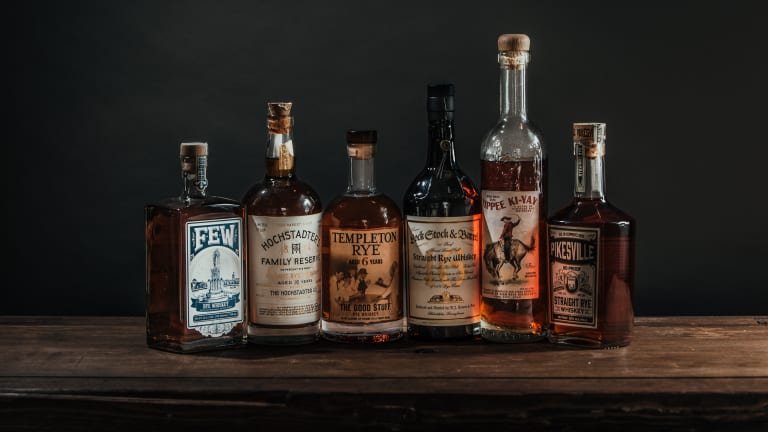 6 Great Rye Whiskeys for the Home Bar
There's more great rye whiskey available for your home bar than ever before. That's not an exaggeration, either. Between 2009 and 2016, sales grew by nearly 800% (according to DISCUS) which wouldn't be possible unless more brands, big and small, old and new, were stocking the shelves. Here are six essential bottles we recommend to nab to spice up your home whiskey game.
FEW Rye Whiskey, $59
FEW Spirits continues leading the charge as one of the country's preeminent craft whiskey distilleries. Based in Evanston, a noted onetime center of the temperance movement located outside of Chicago, the distillery is known for its bourbon and single malt in addition to its rye, as well as a lineup of gins. The rye is spicy and somewhat fruity and has matured and improved quite nicely in recent years, too.
High West Yippee Ki-Yay, $99
Get ready to bust out your best John McClane impersonation, because High West's Yippee Ki-Yay is so good it might have you shouting obscenities before long. High West showcases its penchant for experimentation with this limited annual release showcasing a mix of ryes between two and 16 years old, finished in a combination of vermouth and syrah wine casks. Slightly different from year to year, you'll love to continue checking back on this unique offering.
Hochstadter's Family Reserve, $199
Hochstadter's Family Reserve is a 16-year-old rye whiskey released by The Cooper Spirits Co., with barrels originally picked by the late founder of the company, Robert J. Cooper. It's distilled in Canada by Alberta Distillers and showcases a 100% rye mashbill bottled at a potent cask strength of 123.8 proof. Not for the faint of heart, this big fella is best enjoyed over a nice hunk of ice in your favorite rocks glass, bringing out rich sweetness to balance its fire, oak, and spice.
Lock, Stock & Barrel 16-Year-Old, $169
Two 16-year-old 100% rye whiskeys, the Hochstadter's Family Reserve (above), and the Lock, Stock & Barrel 16-year-old, distilled at the same distillery, and then released by Cooper Spirits. The whiskeys must be carbon copies of one another, right? Not quite. This is bottled at a more approachable 107 proof and showcases a richer profile with baking spices, licorice and medicinal notes. Plenty of rye spice to go around, too, but this is a smoother, softer sipper you'll want to savor.
Pikesville Straight Rye, $49
Pikesville is an iconic rye whiskey brand originally from Maryland, now made in Kentucky by Heaven Hill at its Bernheim Distillery. At six years old and 110 proof, Pikesville showcases the traditional, more well-rounded Maryland style of rye, as opposed to the high spice ryes, often made with mashbills including 95 or 100% rye, that are more prominent today.
Templeton Rye 6 Year Old, $39
Templeton Rye is a six-year-old rye whiskey, bottled at a stronger proof than its younger sibling from the company, and was the first add-on to that original Templeton after a decade. Even better news is that the sourced brand, once mostly infamous as the subject of a lawsuit, has its own distillery under construction in Templeton, Iowa. Once completed, they'll have a production capacity of up to 500,000 proof gallons per year, with warehouse space for up to 40,000 barrels.