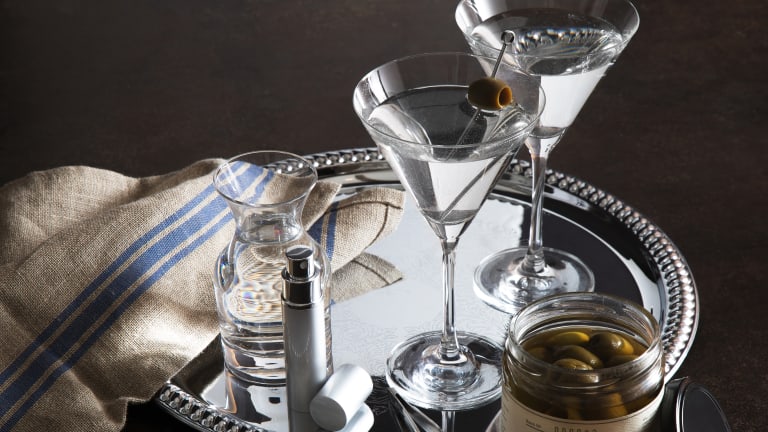 The Speakeasy Box is a Stylish Cocktail Party Delivered to Your Door
It's the eternal conundrum of modern existence: to be truly successful you often have to work way too hard to savor the good things in life. It's usually a matter of time – "curating" takes up all the available leisure hours leaving you watching the clock instead of enjoying yourself.
Which is where the new breed of pre-curated, deliverable experiences comes in. Chief among them: Bespoke Post, which puts together custom crafted boxes of pure enjoyment based on your preferences and predilections.
You can subscribe to get deliveries monthly, or purchase one-offs created with maximizing your enjoyability with the minimum of prep time. One of our favorites is their new Speakeasy Box, which is just as much fun as it sounds.
The intoxicating kit will take your martini-making to the next level, elevating your next gathering or get-together with someone special to an occasion that'll be the envy of professional mixologists.
From a special vermouth atomizer required to give your gin or vodka concoction the scientifically perfect degree of dryness to a proper tarnish-resisting chrome tray to serve your drinks on, this is one sophisticated setup.
The box also includes two ideal martini glasses made of dishwasher-safe, chip- and scratch-resistant Tritan Crystal Glass, also suitable for any cocktail that is served "up"; a sidecar carafe that you can keep on ice for those who like their drinks extra cold; and a very cool pair of offset precision chef's plating tongs for giving ice cube placement a 007 touch.
Speaking of touches, for the finishing one you'll also find jars of artisanal vermouth-brined olives and bourbon cocktail cherries for the ultimate garnish. Anyone who is favored with an invitation to partake of the drinks you'll create can't fail to be impressed.
Get it all for just $45 and take cocktail hour to all new heights....