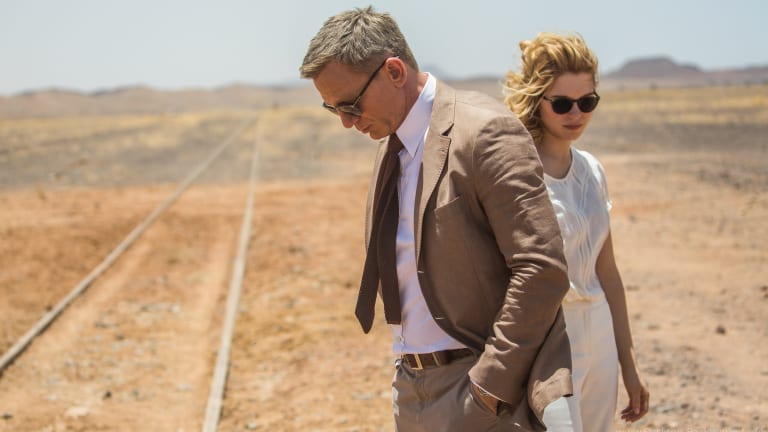 Who Will Sing the Next James Bond Title Song?
Since the last two James Bond title songs won Oscars, there's more pressure than usual for the next musician who plans to join the franchise.
In 2012, Adele won the Best Original Song Oscar for Skyfall's self-titled song, "Skyfall." Three years later in 2015, Sam Smith won the Oscar in the same category for "Writing's on the Wall" for Spectre. There are a ton of classic songs from the franchise, but it's likely the next Bond singer will be similar to the names listed above.
In terms of the Daniel Craig era, the extended list includes "Another Way to Die" by Jack White and Alicia Keys and then the late Chris Cornell sang the debut Craig song, "You Know My Name" for Casino Royale.
Rolling Stone semi-bashed the rock-ish songs above, but no one can really shake a finger at Sam Smith or Adele. Both artists swept the Grammy Awards like the final season of Breaking Bad at the Emmys.
So far, the working title for the James Bond 25 is Shatterhand. But, it's unlikely that an artist would name the song after Shatterhand, since it would have the same rhyming problems as Jack White trying to rhyme anything with Quantum of Solace.
For now, let's just consider a few potential artists for the new title track.
Assuming they move away from artists already associated with other recent films, they may skip over shooting stars like Gary Clark Jr. (Justice League title track) or Kendrick Lamar and/or The Weeknd (Black Panther title track).
Based on Sam Smith and Adele, the franchise will want someone highly credible (and possibly British). Unfortunately, the most likely candidate might actually be Ed Sheeran. Yes, he's the annoying guy behind every wedding song over the past few years, but he's also (a.) Grammy loaded, (b). super popular, and (c.) British.
But, it's unlikely they would only ask Ed Sheeran because of those love ballads that litter the radio. For a song like "Shatterhand," a duet may be the route the producers go with. The closest thing that exists to this might actually be the unexpected Eminem track "River," featuring Ed Sheeran (the song "Dark Times" by Ed Sheeran and The Weeknd is another juxtaposition, but it feels more like Fifty Shades than James Bond).
If you picture an Ed Sheeran chorus for "Shatterhand," someone like Rihanna (consider "FourFiveSeconds"), Lady Gaga (consider "Million Reasons"), or Sia (consider "Breathe Me") could join in to ground the song for the Oscar hat trick. Then again, any of these ladies could also crush a version of "Shatterhand" without any help. And, quite frankly, would all be better choices than Sheeran himself.
Our top pick for the gig is none other than Donald Glover/Childish Gambino, who after making a hard left turn into cosmic soul and funk, would bring a refreshing, lush sound to the iconic title track. Outside of Glover, Frank Ocean is a safe yet solid choice – and near guarantee for an Oscar – as are Lorde and John Legend. And if they really want to make a splash, we'd love to see Arctic Monkeys take a crack at it.
Bond 25 is currently listed for a 2019 release date with Daniel Craig in the driver's seat.