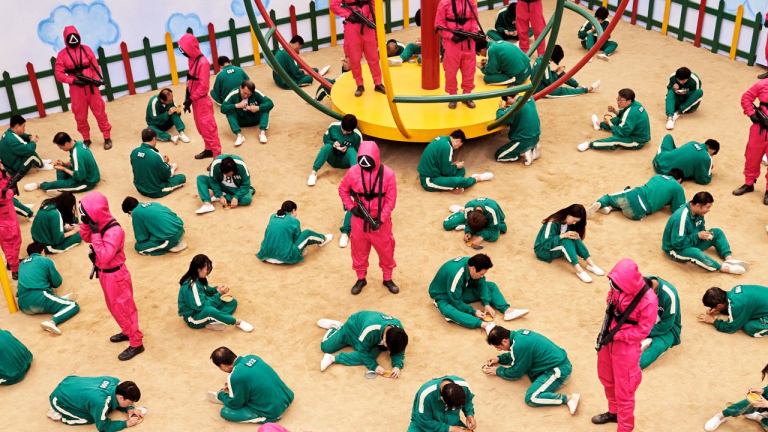 Where to Find Easy, Quality 'Squid Game' Halloween Costumes
Netflix sensation Squid Game — the South Korean survival thriller with a battle royale edge — is taking over the world right now, seemingly. And we're expecting the unique outfits worn on the show to be a fairly popular Halloween costume this year.
But as always, we suggest investing in sartorially strong foundations to costumes that you'll actually want to wear far beyond Oct. 31. It will cost a little more money upfront — and perhaps won't be perfectly accurate — but won't end up in the trash, or back of the closet, by the end of the year.
The striped green sweatsuits worn by the players in the series are the easiest and most comfortable way to enter the Squid Game world this Halloween. And one of our favorite ongoing collabs between Todd Snyder x Champion makes a great option that also happens to be on sale right here.
You'll have to get creative with adding the numbers seen on the jacket on screen, of course, but that should be rather easy for those with even limited craftiness. The ongoing partnership also recently released a sweatpant and hoodie in a matching green style, which could also work in a pinch. Beyond T.S. x Champion, Lacoste also offers up a green tracksuit we like a lot. It's sold as one full set and available here.
Finish the look off with some bloody costume cosmetics on the face and a pair of white slip-on sneakers, as seen throughout the series. Vans would be a natural choice, considering they invented the look, but we're generally unimpressed with their quality and comfort. For only a slight premium, The Wooster Slip-On from GREATS is cut from genuine leather and gives the footwear staple a modern, super-luxe upgrade. You can pick up a pair right here.
If you want something a little more advanced, a guard costume from Squid Game will be an instantly recognizable look. First, start with the mask, which can be picked up on Amazon for just $17 USD right here. Then, find the right jumpsuit. Big spenders should consider this ultra-cool release from the Spanish label LOEWE, which delivers heirloom quality and laidback ease. For an affordable alternative, this red track jacket and track pant can be combined for a semi-similar look.