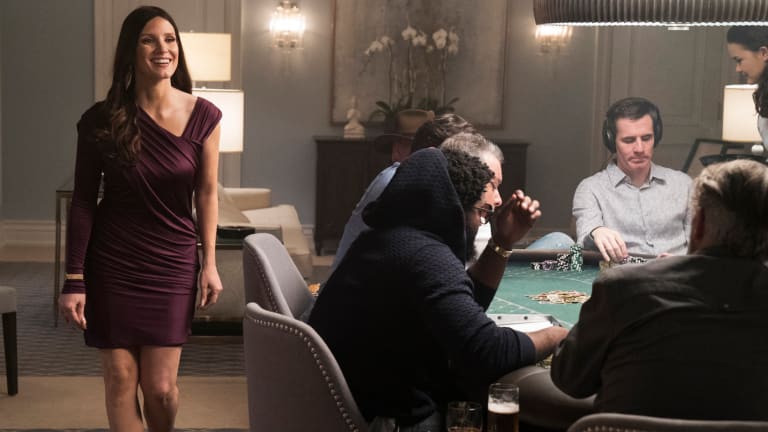 The Truth About Player X From 'Molly's Game'
When you name a character "Player X" in a movie based on a memoir, it encourages some online gossip. In the movie Molly's Game, Jessica Chastain's character Molly Bloom hosts a poker game where the players were the world's most exclusive high-rollers.
The underground poker game consisted of CEOs, A-list actors, professional athletes, and more. In the film, Michael Cera (Superbad, Arrested Development) landed the role as Player X, which feels surprising at first, but makes sense halfway through the film.
In typical Aaron Sorkin banter, it's unclear who the character is supposed to be at first. Essentially, Molly's boss gives her a list of names to call. As a viewer, there are quick cuts of Michael Cera on the red carpet and in films, where camera flash sounds are used in place of a name.
Eventually, she announces the character as "Player X," which she also calls him in her book.
In truth, the unnamed player is likely an ensemble of characters, wrapped into one. Some of the names associated with Molly's underground poker game include Leonardo DiCaprio, Ben Affleck, and baseball star, Alex Rodriguez.
But, if you read the book and then watch the movie, it's clear that the worst aspects of Player X likely come from the original Spider-Man, Tobey Maguire.
Many people may remember hearing about Maguire's surprising poker abilities, but he's essentially a great player who happens to be famous. This makes rich people want to sit at the table with him.
More importantly, however, Cera's version of Maguire is a sinister figure who takes pleasure in "destroying [the] lives" of the other players and even Molly Bloom. "I swear on my mother's life I have you beat," said Magurie in the book. "I wouldn't lie to you, man."
The real Molly Bloom expanded on this situation:
"His opponent had gotten confused. I had watched him stare at the cards he was holding, knowing full well he had the winning hand but suddenly unsure after Tobey's performance. Tobey was incredibly convincing, and so earnest that the guy eventually, although reluctantly, gave in. To add insult to injury, Tobey then victoriously showed his bluff. To me, his actions were in really bad taste."
In the film, writer-director Aaron Sorkin introduced Player X in the scene above, showing his aggression in the middle of a tense hand.
Essentially, this is the center of the fiasco that eventually lead to Molly's drug addictions, an intense court case, a New York mobster attack, and a bank account that's missing four million dollars.