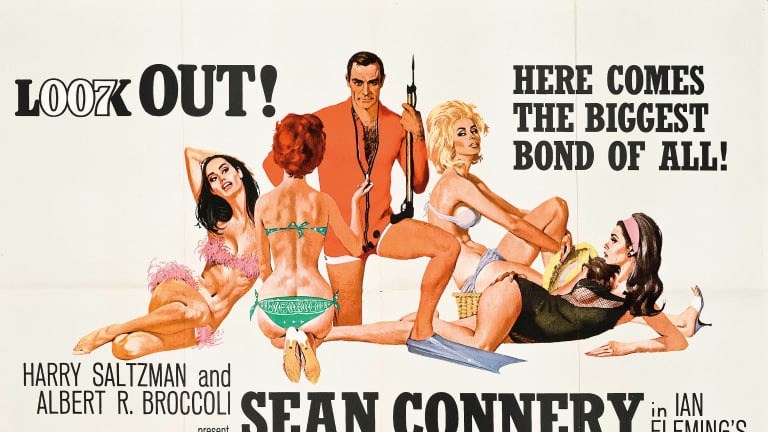 Every James Bond Movie Poster, Ranked
From last to first.
The James Bond films have been pushing movie poster design forward for years and are an excellent representation of the taste and style of various decades. Even though you shouldn't judge a book by its cover or a movie by its poster, we decided to do it anyways.
24.) Die Another Day (2002)
Everything about this one is just incredibly pathetic and embarrassing to the franchise.
23.) License To Kill (1989)
This looks like the cover for a bootleg DVD bought on the streets of Thailand.
22.) Tomorrow Never Dies (1997)
The 90's weren't very good to 007. Point one.
21.) The World Is Not Enough (1999)
Point two. This looks like freaking Spy Kids.
20.) A View To A Kill (1985)
It's fine, just not enough going on here compared to most of the other films.
19.) Spectre (2015)
Even the minimal (and kind of boring) teaser poster outdid most of the Pierce-era.
18.) Casino Royale (2006)
Bond looks pretty cool in a tux, but there's ultimately not enough working for this one to put it any higher than 18th.
17.) Goldfinger (1964)
One of the best Bond movies, but a mediocre poster.
16.) Dr. No (1962)
First doesn't always equal greatest.
15.) Goldeneye (1995)
Iconic in a weird 90's way, even if it's not super impressive. Love the cheesy tagline.
14.) The Living Daylights (1987)
This one is pretty awesome and you gotta love how it combines old school and new school. Almost makes up for Dalton's embarrassing License To Kill poster.
13.) From Russia With Love (1963)
Classic Sean Connery posters are always a win, but they've yet to hit their prime at this point.
12.) Diamonds Are Forever (1971)
It's fantastic, but 007 is at his best without surrounded by sci-fi looking things.
11.) Moonraker (1979)
Same thing as Diamonds Are Forever.
10.) The Spy Who Loved Me (1977)
Love the retro fonts and everything about this. Looks like an old Atari game cover, which is 100% a compliment.
9.) The Man With The Golden Gun (1974)
One shot kill.
8.) Skyfall (2012)
So clean and minimal. The navy tux and black "007" font pop perfectly.
7.) Octopussy (1983)
All the different arms surrounding Bond. Just outstanding.
6.) Quantum of Solace (2008)
One of the worst Bond movies, but the poster sure was awesome. 007 has never looked more dangerous.
5.) On Her Majesty's Secret Service (1969)
Such a fantastic poster. Get this thing framed and hang it in your ski cabin.
4.) You Only Live Twice (1967)
Surrounded by hot chicks in a hot tub as they serve his every need. Classic Bond.
3.) Live And Let Die (1973)
Love the cards, the speed boat, the rocket launcher. A+ work.
2.) Thunderball (1965)
The harpoon gun and slippers make this one an all-timer.
1.) For Your Eyes Only (1981)
Between the legs.