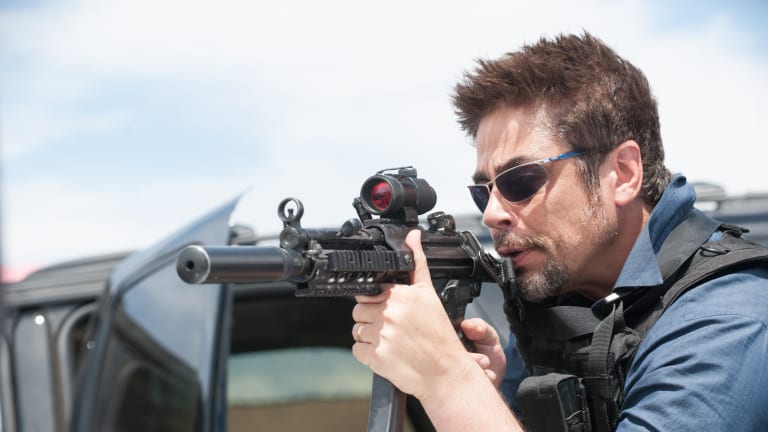 10 Films Every Man Needs To See This Autumn
Your cheat sheet.
Leading up to Thanksgiving, we have an action packed movie slate filled with more films than any person can realistically see. Lucky for you all, though, we filtered down the B's and C's and just left you with the A's.
Everest (September 18th, 2015)
This movie about a climbing expedition on Mt. Everest that's devastated by a severe snow storm has a trailer that will make your stomach drop and is sure to be an unforgettable IMAX experience.
Sicario (September 18th, 2015)
From the director of the fantastic Prisoners comes a movie about an idealistic FBI agent played who is enlisted by an elected government task force to aid in the escalating war against drugs at the border area between the U.S. and Mexico. With Emily Blunt, Josh Brolin, and Benicio Del Toro in the cast, and a 96% score on Rotten Tomatoes, this has to be excellent.
Black Mass (September 18th, 2015)
This is Johnny Depp as all-time mobster Whitey Bulger, the brother of a state senator and the most infamous violent criminal in the history of South Boston. All you need to know.
The Intern (September 18th, 2015)
Because not every movie needs guns and violence, this flick from the woman who made all-time rom-com classics like The Holiday and Something's Gotta Give, looks like the perfect movie to take your girl to on a date night.
The Walk (September 30th, 2015)
JGL as a semi-insane tightrope walker doing the impossible is supposedly the most jaw-dropping movie of the year, especially when seen in 3D and IMAX. We're talking Gravity-status.
The Martian (October 2nd, 2015)
Based on one of the greatest sci-fi books ever written, this fantastic tale of space, survival, and science is going to be the perfect dose of charm, humor, and action.
Steve Jobs (October 9th, 2015)
Written by the always fantastic Aaron Sorkin, the master of dialogue, this celebration of Steve Jobs looks like a heart-pounding character-driven thrill ride, much like the lovely The Social Network, which Sorkin also penned. Plus, Danny Boyce directed it, and that dude knows how to make a good flick.
Beasts Of No Nation (October 16th, 2015)
An emotional story about child soldiers in Africa, this Idris Elba-led movie will hit the silver screen and Netflix streaming on the very same day, so there's little excuse to ignore.
Spectre (November 6th, 2015)
James Bond. Enough said.
Creed (November 25th, 2015)
A semi-sequel to the Rocky films, this one focuses on the son of Apollo Creed, played by the amazingly talented Michael B. Jordan. If you like boxing and love good movies--this one is directed by Ryan Coogler of Fruitvale Station fame--it'll be hard to dislike this watch.