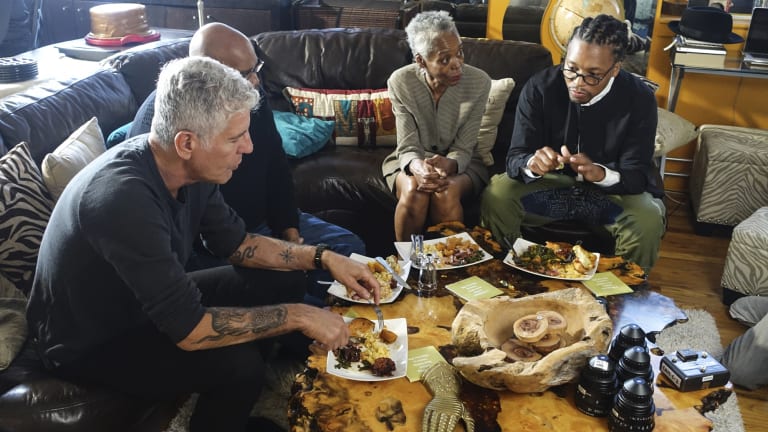 The Chicago Episode of 'Parts Unknown' With Lupe Fiasco Is a Must-Watch
A Bourdain show at its best.
Anthony Bourdain's Parts Unknown has amazing cameos during nearly every episode. It's like his love for food attracts the greatest talents in the world, regardless of their industry or profession.
This includes meals with Bill Murray and chef Sean Brock in Charleston, South Carolina, or even Bourdain himself chopping onions in a kitchen while Jack White's band The Dead Weather performs in the living room of a house party in Nashville.
While visiting Chicago, the chef, writer, and television personality sat down with Lupe Fiasco to discuss the rapper's upbringing in a rough neighborhood. Lupe said that his parents were very encouraging despite the harsh realities outside their door.
"It's a genuinely beautiful place," said Lupe, after Bourdain's voiceover tells the audience that Chicago has an "appalling murder rate."
"You have to redefine what beauty is to you," clarifies the musician, in an optimistic tone. He then describes the beauty in the bad neighborhoods, which arises from the "beauty in the people."
Lupe describes the area as a crossroads, where residents and visitors can find anything from Avant jazz to the best tamales in the world. The combined DNA of his neighborhood and encouragement from his family inspired his music.
Many rappers do not consider Lupe Fiasco to be in the same realm since he's more likely to rap about the Black Panther movement than buying or selling drugs on the street. Lupe believes this is true because drugs are tangible, unlike ideas, which come and go if not nurtured (similar to the mindset of The Wire's Stringer Bell).
In Lupe's song, "Put You On Game," he writes, "Don't you know that I run this place / And I've begun this race / Must I rerun this pace / I'm the reason it's become this way," where he eventually drops the beat to conclude, "I am the American dream…"
Some of these lines almost mirror Jack Nicholson's character, Frank Costello, in The Departed, when he said, "I don't want to be a product of my environment. I want my environment to be a product of me." Costello, however, corrupted Boston while Lupe tries to lift Chicago back up.
Rather than rapping about drugs, women, or money, Lupe Fiasco focuses on songs like "Little Weapon," which is about child soldiers, or "Dumb It Down," which really summarizes his entire thought process about the rap game and why he feels like everyone else is simply "dumbing down" their lyrics and even the topics of those lyrics.
In the end, Lupe's work speaks for itself as his songs continue to reach mass audiences as timeless, perennial hits while many other decade-old songs like "Crank That (Soulja Boy)" or "This Is Why I'm Hot" feel as dated as 22-inch-rims, the Blackberry 8300 Curve, or even the horrendous Spider-Man 3.
If you're a fan of Lupe Fiasco or Anthony Bourdain, don't sleep on this great episode. It's replayed on CNN often and can also be seen on Netflix.