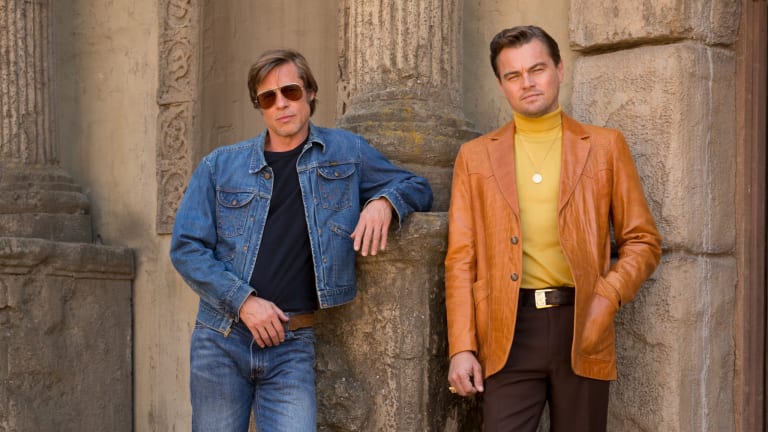 10 Upcoming Leonardo DiCaprio Movies to Get Excited About
The biggest Leonardo DiCaprio news these days revolves around his latest collaboration with Quentin Tarantino.
Alongside Brad Pitt, Margot Robbie, Al Pacino, Kurt Russell and an ever-growing all-star cast, DiCaprio will star as a faded television actor embarking on an odyssey during 1969 Los Angeles.
Once Upon a Time in Hollywood is currently filming, with an expected release date of July, 2019. But, this isn't the only movie you should be pumped about:
Untitled Steven Spielberg Ulysses S. Grant Project
Currently, there's an untitled project from Steven Spielberg in the works, which will star Leonardo DiCaprio as Ulysses S. Grant. With Spielberg, it feels unlikely that the icon would focus on a biopic. Instead, he'll likely choose one event from Grant's life, like he did with the 2012 Daniel Day Lewis film, Lincoln.
The Devil in the White City
In addition to Spielberg's star, DiCaprio will also return to work with Martin Scorsese once again on The Devil in the White City. According to the description, "an architect works to build up the 1893 Worlds Fair, while a serial killer uses the fair to attract and kill women." DiCaprio will star as the American killer, H. H. Holmes.
Mark L. Smith's Conquest
Conquest is the currently the most mysterious film on our list, but it's hard to imagine DiCaprio not picking a winner. The screenwriter, Mark L. Smith, has credits such s The Revenant, Vacancy, and newbie, Overlord.
Adaptation of Walter Issacson's Leonardo da Vinci Biography
It was likely inevitable that Leonardo DiCaprio would one day become Leonardo da Vinci on the big screen. So far, the story is simply listed as an adaptation of Walter Issacson's book, with some help from screenwriter John Logan. You may have seen Logan's films, such as Skyfall, Alien: Covenant, Spectre, Hugo, Sweeney Todd, The Aviator, The Last Samurai, Gladiator, or Any Given Sunday.
The Crowded Room
In The Crowded Room, Leonardo DiCaprio will be involved with the story of Billy Milligan. According to IMDB, the true story follows a man who "developed twenty-four personalities during his horrific childhood, and who would go on to commit several robberies and rapes." This feels somewhat dark for DiCaprio, but Lucky Number Slevin screenwriter Jason Smilovic can likely make it charming.
The Black Hand
Next, there's The Black Hand from Captain Phillips screenwriter, Stephan Talty. According to the official description, "Police Officer Joe Petrosino seeks justice against a ruthless Italian-American gang in New York." The story comes from the book, which was also written by Talty.
Satori (Unconfirmed)
DiCaprio has been trying to get Satori by Armageddon screenwriter Shane Salerno off the ground since 2011, where he'll play an assassin in post-WWII Japan on assignment to kill a Soviet Commissioner. Can somebody call the John Wick team?
Killers of the Flower Moon
Before DiCaprio and Scorsese team up for The Devil in the White City, they're actually going to squeeze in another film called Killers of the Flower Moon. DiCaprio hasn't been pinned down to a single character yet, but the story follows the Osage tribe and a series of murders in the 1920s under FBI investigation by J. Edgar Hoover.
Roosevelt
Last but not least, there's Roosevelt. Scorsese and DiCaprio will team up for the third time on our list to bring about a biographical drama of President Theodore Roosevelt. Surprisingly, this screenplay comes from first-time screenwriter Scott Bloom, who has been seen as an actor in films like John Q and Smokin' Aces.