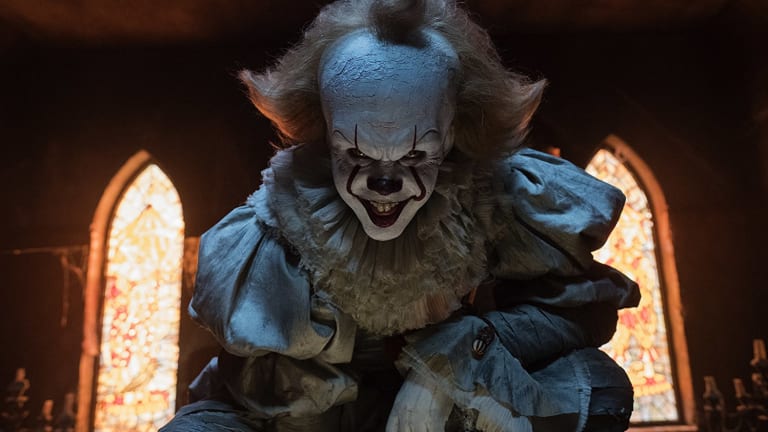 'It' Is the Best Stephen King Horror Adaptation Since 'The Shining'
"You'll float, too..."
After The Dark Tower bombed at the box office, most movie buffs were hesitant as to how director Andy Muschietti (Mama) and new screenwriter Chase Palmer would bring Stephen King's It to life, especially after Cary Fukunaga (True Detective) left the project due to "creative differences."
The best horror adaptations based on Stephen King books will always be The Shining and Carrie, but the new It reboot is arguably in the top three.
The cinderblock-sized book is a whopping 1,300 pages long as it revolves around the innocence of childhood and the trauma of becoming an adult, like many of King's other books.
The film begins with the infamous paper boat as young George chases after it in the rain. As it gets sucked into the sewer, a murderous creature awaits.
Unlike the 1990 mini-series where Tim Curry (The Rocky Horror Picture Show) plays an over-the-top, sometimes laughable Pennywise, Bill Skarsgård (Atomic Blonde) absolutely murders the role. He's frightening and funny as he toys with the children throughout the film.
Despite being a gruesome horror movie, the movie is still warm and profound at the same time.
Pennywise arrives every fifteen minutes to torture audiences, but the story revolves around the self-proclaimed "Losers," who survive bullying, friendship, and a murderous clown, similar to Stranger Things, Super 8, or many Steven Spielberg classics from the 1980s.
The connection to Stranger Things is perhaps the strongest, due to the bicycles, story, and young actor Finn Wolfhard, who is also in It.
There's going to be lots of horror movies between now and Halloween, but unless Mother! reveals something better than a Rosemary's Baby remix, 2017's It will be the best horror movie of the year.
Perhaps the best news for this reboot is that the new film is only Chapter 1 of King's killer-clown masterpiece...