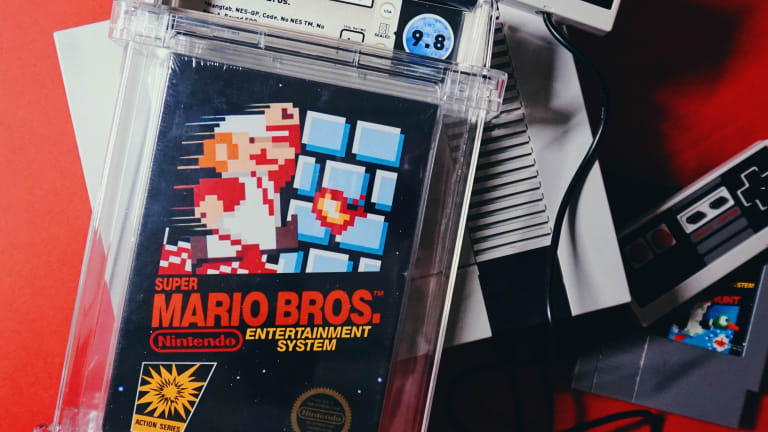 The Beginner's Guide to Investing in Sealed Vintage Video Games
Alongside cryptocurrencies, collectible assets are increasing in value at a rapid pace as institutions and funds diversify with everything from LeBron James rookie cards to first edition Charizard holos. And one category that feels like it's going to get even bigger in 2021 is sealed vintage video games.
The segment started to heat up after two events. First, in 2018, a video game grading company named Wata launched, adding more validity to the category with an in-depth authentication process and gorgeous protective casing that adds to the eye appeal of the rare relics.
The second event was in July 2020, when an original sealed copy of Super Mario Bros. for the Nintendo Entertainment System sold for $114,000 USD at Heritage Auctions. At the time, it was the most expensive game ever sold, but it was soon overtaken by a special copy of Super Mario Bros. 3, which went for a cool $156,000 USD.
To help you navigate this new market, we're answering five of the most common questions. But before we begin, a quick side note:
We are in no way financial advisors, which is hopefully quite obvious. And everything here is only for general informational and educational purposes.
Why are sealed vintage video games valuable?
Supply and demand. There are very, very few sealed vintage video games in the world and even less in pristine (or close to pristine) condition. And unlike trading cards, where manufacturers like Topps and Panini create artificial scarcity, there is an actual scarcity to sealed vintage video games.
What are some interesting, potentially undervalued titles right now?
We're bullish on games that infected pop culture in a big way. And though most people are already priced out of "grails" like Super Mario Bros. and other OG classics, there is still a lot of room to navigate, and potentially succeed, in the early stages of the market.
Here are some titles that feel notable and are each, for the most part, readily available to purchase on eBay:
What are some things to look out for when buying sealed and graded video games?
We would suggest going with games without "Game of the Year" or "Player's Choice" badges. In almost all cases, the first run of the game will hold the most value.
Sealed video games, compared to "CIB" (complete in box) video games, seems to also be the smarter way to go. "CIB" games are interesting for a pure collector, and may go up in value over time, but likely not as dramatically and rapidly as sealed.
And don't sleep on grading yourself. Wata makes it very easy with pricing well under $100 USD per game. This gives you the opportunity to create your own margins by buying sealed but ungraded games and going through the Wata process yourself. Beyond Wata, VGA is a respected name in video game grading that is also worth looking into.
Are there fractional ownership opportunities with sealed vintage video games?
Yes. Not only is fractional ownership one of the most exciting things to come out of the boom in collectibles, but it allows you to easily invest in "blue chip" vintage video games without having to spend a small fortune or worry about storage or insurance.
Our favorite option for fractional ownership is Rally, a stylish and tastefully curated platform for buying and selling equity shares in all kinds of alt-assets, from vintage Ferraris to rare Japanese whiskies. They'll soon be offering an IPO for high-grade copies of Pokémon: Blue Edition (GameBoy) and Grand Theft Auto (PlayStation), with prices starting as low as $5 USD per share.
And later this week, Rally will offer a trading window for the original (and aforementioned) Super Mario Bros. game for NES. It debuted on Rally in Aug. 2020, with an initial offering price of $50 USD per share at a $150,000 USD market capitalization. It's already up to $69.75 USD per share and could climb even further.
Is grading modern video games worthwhile?
Perhaps. Especially if you're in it for the long haul. Two plays that could potentially go up in value over time are FIFA 21, which features 22-year-old French soccer sensation Kylian Mbappé on the cover, and anything Fortnite related.
With Fornite, physical copies of the original game are near-impossible to find and are already commanding sky-high pricing. However, for those on a budget, Epic Games, its publisher, occasionally releases sealed retail "packs" featuring various skins and cosmetics for the game. Just recently, for example, they released Fortnite: The Last Laugh Bundle featuring DC Comics' The Joker and Poison Ivy along with an elevated version of its Midas mascot.