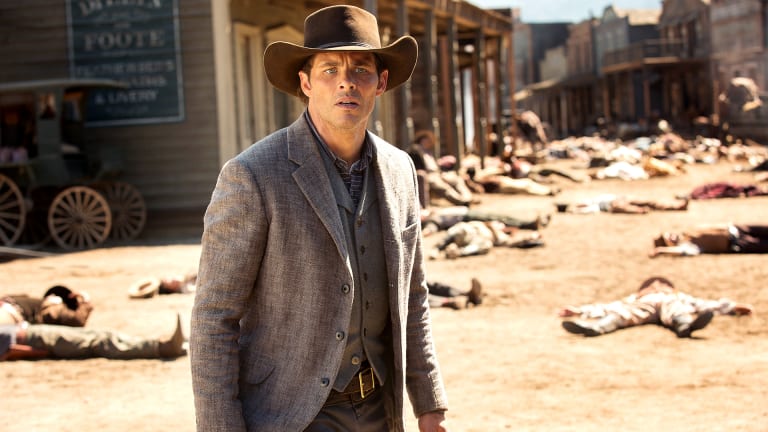 Every HBO Original Series, Ranked
From classics to newcomers.
Without a doubt, HBO puts out some of the best television shows ever made. Not only did the network change the culture with The Wire and The Sopranos, but they've continued to release hit after hit, year after year.
The following list of shows is ranked on quality, dialogue, influence, originality, and subconsciously subjective preferences, of course.
40.) Ballers
We're huge fans of the Rock but the "Entourage with football players" approach comes off a little cheesy for the most part. Rob Corddry has the occasional funny line, but if you're a Rock fan, stick with the summer flicks.
39.) Lucky Louie
This show from Louis C.K. seems like it's ahead of its time, but the awkward studio audience laughing as Louis deals with his sitcom kids is a little off-putting. Check out Horace and Pete instead if you want to see Louis' best attempt at a comedy-drama.
38.) Hung
So, a high school gym teacher becoming a gigolo is an odd premise for a show (and it sounds more like a Showtime series), but Tom Jane (The Punisher) is as good as ever. If you're into the comedic gigolo lifestyle, this might be a fit for you.
37.) Hello Ladies
Stephen Merchant is the tall, skinny Englishman known for his "Beyonce Z" dance on Jimmy Fallon (plus his creepy Caliban role in Logan). On Hello Ladies, Merchant's character is awful at picking up women, but his efforts are worth the watch.
36.) Divorce
Another new show, Divorce stars Sarah Jessica Parker from Sex and the City and Thomas Hayden Church from Sideways. Things go south when Parker's character sleeps with Jemaine Clement and the married couple can't keep it civil.
35.) The Brink
Similar to HBO's Veep, The Brink has American government-like characters in the Pakistan embassy, plus Naval planes, and lots of Jack Black being Jack Black. The show falls somewhere between edgy satire and black comedy.
34.) Looking
This started as a series by Michael Lannan, then HBO ended the series, but not before giving Lannan a movie. Patrick Murray is always great, even when he's not playing David Sedaris.
33.) Vice Principals
The trailer for this show alone makes it a must-see. Walton Goggins (Justified) and Danny McBride (Eastbound and Down) team up as two competing Vice Principals shooting for the head job at a small high school (plus a Bill Murray cameo).
32.) Vinyl
This series started with a bang as Martin Scorsese (Goodfellas, Casino) directed the pilot, which was written by Terence Winter (Boardwalk Empire, Wolf of Wall Street), but it kind of fizzled out for us, despite Olivia Wilde and the killer 70s music.
31.) Togetherness
The Duplass Brohers are known for their quirky films and this new series. This show relies on some super awkward moments but the pulse has a deep heart within the series that will likely bring viewers back each season.
30.) The Young Pope
Jude Law's television series is pretty addictive, despite its snail-pace. Not everyone will like this show, but the cinematography is gorgeous, Jude's character is intriguing, and there's a kangaroo running around the Vatican.
29.) Tenacious D
In the late 1990s, Jack Black got his chance to have a show before he blew up with High Fidelity and Orange County. If you really liked the band back in the day, this show will likely entice you.
28.) Carnivàle
From Daniel Knauf, Carnivàle takes place during the Great Depression as an Oklahoma farm boy and a minister discover that they are key players in a war between Heaven and Hell. Enough said.
27.) Rome
If you like Kevin McKidd and Ray Stevenson, you'll probably like Rome. It's not quite Game of Thrones, but it's an intriguing look into the lives of Romans, during the final days of the Roman Republic.
26.) True Blood
The show started off pretty good but drastically went off the deep end. For fans of vampires, werewolves, shifters, and wild sex scenes, True Blood is everything that the Twilight series never could be, plus there's Lafayette Reynolds.
25.) Crashing
From Judd Apatow and Pete Holmes, Crashing is another newbie, but the first season was pretty iconic and very Apatow-ish. If you're into stand-up, there's tons of cameos and some touching scenes where they break down the creative process.
24.) Luck
Unfortunately, there was a horrible accident where several horses were killed on the set of this show, which has a premise that revolved around the track. Luck starred Dustin Hoffman, but sadly, there's only one season due to the accident.
23.) High Maintenance
This is a unique show, even for HBO. A nameless pot dealer bounces around New York and interacts with various customers. Each episode shows the life of a customer, similar to Tarantino's Four Rooms or Scorsese's New York Stories.
22.) Bored to Death
Jonathan Ames writes a different style of comedy where you can really tell every character cares about one another (unlike Judd Apatow's Knocked Up). This is also true for Ames' new Starz series, Blunt Talk.
21.) The Leftovers
To be honest, we weren't crazy about the first season of The Leftovers, but the show seems to be getting better and better. It loosely revolves around some biblical questions, but really needs to be seen rather than described. Give it a shot.
20.) Entourage
When this show came out, many fans were in high school or college, so there's a certain fondness there for the comedy that writers like Tina Fey absolutely hate. The show is based loosely on producer Mark Whalberg's life, but more like if he began as Leonardo DiCaprio.
19.) Veep
The insults on Veep really hold this show together. Seinfeld's Julia Louis-Dreyfus stars as Selina Meyer, who is a former Senator turned Vice President. The role, of course, is nothing like she thought it would be.
18.) Eastbound and Down
Danny McBride stormed onto television with a tour de force performance unlike anything else at the time. The former pitcher (possibly mimicking the Braves' John Rocker) returns to his hometown to teach physical education and ride his Jet Ski.
17.) Big Love
Bill Paxton's role as a husband able to balances three, four, or five wives was something completely new to the silver screen. If you're thinking this sounds like quite the job to try and balance, you're right. R.I.P. Bill Paxton.
16.) Girls
Lena Dunham's Girls feels a bit annoying and hipsterish at times, but that's kind of the point. The final season just ended in a surprisingly satisfying way, but it's the type of show where you either love it or hate it.
15.) The Newsroom
After The West Wing, Aaron Sorkin returned to television for The Newsroom, so that classic dialogue is throughout, plus Jeff Daniels' "mission to civilize" as the "greater fool" will keep you mesmerized.
14.) Flight of the Conchords
This series from the New Zealand band with the same name brought a new type of comedy to television. Mel or Murray might have been the best characters, but there are more one-liners in this show than a Steven Wright show.
13.) Sex and the City
These ladies literally started the Cosmo trend in America in the 1990s. Sex and the City was groundbreaking in many ways, and it's the type of show that helped these actresses stay in the spotlight for years to come.
12.) Silicon Valley
This might be the most underrated show on television right now, but as the tech world expands, so will it's following. The dry humor from creator Mike Judge, plus the ridiculousness of T.J. Miller makes Silicon a massive hit, right from the get-go.
11.) The Larry Sanders Show
This is another show far ahead of its time. It's a bit like what later became The Office or Parks and Rec (or Modern Family, etc.). Gary Shandling stars as a fictional late-night host where the bulk of the show happens behind-the-scenes.
10.) Curb Your Enthusiasm
Larry David is brilliant. First Seinfeld, the Curb. He makes everyone feel truly uncomfortable, but then he makes sure to take it a step further. You'll probably feel some anxiety watching this show, but that's a good thing.
9.) Six Feet Under
Before he was Dexter, Michael C. Hall was David Fisher on a show about a dysfunctional family in California who run a small funeral home. Peter Krause (Sports Night, Parenthood) also stars as the brother, Nate Fisher.
8.) Westworld
There are not a lot of competitors out there within the Sci-fi Western genre, and this series really delivers. Anthony Hopkins is at his best and there are some twists and turns throughout that make this drama something that can't be missed.
7.) Boardwalk Empire
This series is historical fiction at its finest. Steve Buscemi stars as Enoch "Nucky" Thompson, a politician playing both sides of the law in early Atlantic City, during America's Prohibition.
6.) Oz
Back in 1997, HBO launched their very first "dramatic television series," Oz. The show was both risky and innovate as it invited viewers to watch the daily activities of a prison facility and its many inhabitants.
5.) Deadwood
This western, set in the 1800s, stars Timothy Olyphant and Ian McShane. Deadwood revolves around a series of characters in Deadwood, South Dakota, as they deal with corruption, crime, and death in the west.
4.) True Detective
Season 1 of this series would have swept the Emmys if it wasn't for that pesky Season 5 of Breaking Bad. If you haven't seen True Detective, stop what you're doing right now and turn it on.
3.) The Wire
Each season of The Wire is quite different from one another, but for those who get passed Season 2, the grand picture is a masterpiece. If nothing else, watch the show to see more of Omar Little (several of these actors are now on The Walking Dead).
2.) Game of Thrones
Nine noble families fight for control of Westeros in this epic series, which is perhaps the most talked about drama ever made. Currently, the fan favorites are Emilia Clarke, Peter Dinklage, and Kit Harington, but these game pieces could change.
1.) The Sopranos
The Sopranos changed the way metaphorical television is written and each episode is like a movie, unlike the cliffhanger shows we have today.
If you enjoyed this article, get the free ebook, How Hollywood Screenwriters Annihilate Writer's Block, which includes advice from writers like Aaron Sorkin, William Monahan, and Cary Joji Fukunaga.